Searchable Map and Satellite View of Australia using Google Earth Data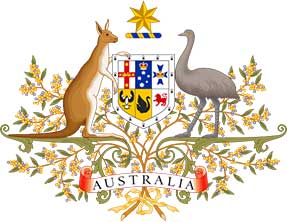 Australia the 'island continent', a country and a continent in the southern hemisphere, surrounded by the Indian and Pacific oceans with their marginal seas like the Timor Sea, the Arafura Sea, the Coral Sea, the Tasman Sea and the Great Australian Bight.



Area
With an area of almost 7.7 million km², it is somewhat smaller than the Contiguous United States. Australia is the world's sixth largest country, it is divided into three separate time zones, six states, and two territories. It shares maritime borders with East Timor, Indonesia, New Zealand, Papua New Guinea, the Solomon Islands, and New Caledonia.

Australia's main geographical features
Mountain Range: Great Dividing Range in Queensland, the main watershed of eastern Australia, a series of plateaus and low mountain ranges with an average elevation of 600-900 m.
Desert: Great Victoria Desert, gibber plains and salt lakes in Western and South Australia.
Longest river: Murray River, 2,375 km (1,476 mi).
Highest peak: Mount Kosciuszko, 2,228 m (7,310 ft).
Reef: Great Barrier Reef, a 2,300km-long ecosystem with an uncertain future.
Monolith: Uluru (Ayers Rock), 863 m (2,831 ft), a massive sandstone monolith in the heart of Northern Territory's Uluṟu-Kata Tjuta National Park.

Population
Australia has a population of 24,129,000 (July 2016) making it a less densely populated country.

The national capital is Canberra, largest city is Sydney, other major cities are Brisbane, Melbourne, Perth, Adelaide and Darwin. National language is English.



Satellite view is showing Australia with Territories and States boundaries, Territory and State capitals, major cities, expressways and main roads.

To view just the map, click on the "Map" button.


To find a location type: street or place, city, optional: state, country.


Local Time Canberra:

Saturday-December-9 09:09

Standard time zone (AEST): UTC/GMT +10 hours
Daylight saving time (AEDT) in use from beginning of October until end of March, time zone offset: UTC/GMT +11 hours