About Antarctica
Map is showing the Antarctic circle and the continent of Antarctica with a land area of 14 million km² (280,000 km² ice-free, 13.72 million km² ice-covered), so Antarctica is almost twice the size of Australia (7,617,930 km²), it is the world's fifth-largest continent in area, after Asia, Africa, North America, and South America (see the Americas).

Not quite in the center of Antarctica is the South Pole, by convention it is the southernmost point on the surface of the Earth (wherever you would go from here you would go north, somehow). The South Pole is also one of the endpoints of Earth's rotation axis. The South Pole is not really a fixed point, simply because Earth is rotating slightly off-center, our planet 'wobbles' a tiny little bit, scientists call this behavior the Polar motion, it is the movement of Earth's rotational axis across its 'surface', and - the deflection is just a few meters.

The nearest countries to Antarctica are South Africa, Australia, New Zealand, Chile and Argentina.

On Antarctica there are no cities or villages, 98% of the continent is covered by ice.

The map shows also the location of scientific research stations operated by various countries on the continent.




You are free to use this map for educational purposes, please refer to the Nations Online Project.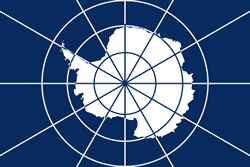 Bookmark/share this page


One World - Nations Online
All Countries of the World