Map is showing Guadeloupe, a French Caribbean islands in the Eastern Caribbean between the Caribbean Sea and the North Atlantic Ocean. The archipelago is situated in the Lesser Antilles just north of the island of Dominica, southeast of Montserrat (UK) and Antigua and Barbuda, and about 500 km (310 mi) southeast of Puerto Rico.

Guadeloupe includes the roughly butterfly shaped main islands Basse-Terre and Grande Terre, which are separated by a narrow sea channel, the Salée River. A number of smaller islands belong also to the insular region. The other islands are Marie-Galante, La Désirade, Îles des Saintes (Les Saints) with Terre de Bas and Terre de Haut, and the uninhabited small Îles de Petite Terre, now a nature reserve.

The archipelago covers a total land area of about 1630 km², making it slightly smaller than two thirds of Luxembourg, or somewhat larger than half the size of Rhode Island. The islands offer extensive hilly landscapes and are of volcanic in origin with the exception of Grande-Terre, a low lying limestone formation.
Highest point is Grande Soufrière, an active stratovolcano on the island of Basse-Terre, at 1,467 m (4,813 ft), it is the highest mountain peak in the Lesser Antilles (its last eruption was in 1977). Basse-Terre island also boasts with fertile soil, many rivers, streams, and natural hot springs.

Guadeloupe has a population of about 400,000 people (2014). Its capital is Basse-Terre. Largest city, main port, and economic capital is Pointe-à-Pitre

on Grande Terre, just south of Guadeloupe's international airport Le Raizet. Spoken languages are French (official) almost all locals speak also Creole patois.

Depicted on the map are the islands, the location of the prefecture capital Basse-Terre, major towns, main roads, and the international airport Le Raizet.




You are free to use this map for educational purposes (fair use), please refer to the Nations Online Project.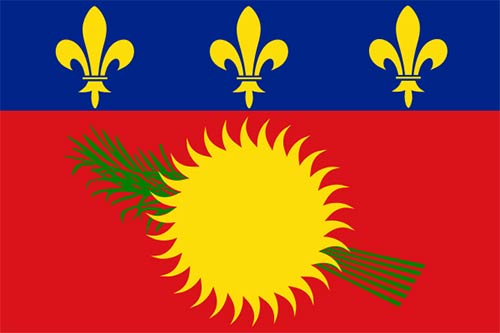 Bookmark/share this page


One World - Nations Online
All Countries of the World