About Puerto Rico
The Commonwealth of Puerto Rico (official name; Spanish: "Estado Libre Asociado de Puerto Rico") is an island in the Greater Antilles in the Caribbean Sea, east of the island Hispaniola, (with Haiti and the Dominican Republic).

The island was one of the earliest Spanish settlements in the New World, it was ceded to the US in 1898 after the Spanish-American War. In 1952 it became a commonwealth in voluntary association with the US with full powers of local government.

Puerto Rico occupies an area of 8,870 km², compared it is slightly smaller than Cyprus or slightly less than three times the size of the US state of Rhode Island.
Puerto Rico's highest elevation with 1,338 m is Cerro de Punta.

The island is a self-governing unincorporated territory of the United States. Puerto Rico has a population of 3.5 million (in 2017), capital and largest city is San Juan, other major cities are Bayamón, Carolina, Ponce, Caguas, Guaynabo, and Mayagüez.
Official languages are Spanish and English.

Largest airport in the state is Luis Muñoz Marín International Airport (IATA code: SJU), other international airports are: Rafael Hernández International Airport (IATA code: BQN) near Aguadilla, and Mercedita International Airport (IATA code: PSE) in Ponce.

In 2017 Category 5 Hurricane Maria caused catastrophic damage and triggered a major humanitarian crisis on the island.

The map below is showing boundaries, major cities and populated places, interstate highways, and principal highways of Puerto Rico and the U.S. part of the Virgin Islands, an insular area of the United States with the main islands of Saint Croix, Saint Thomas and Saint John, neighboring Tortola Island is part of British Virgin Islands.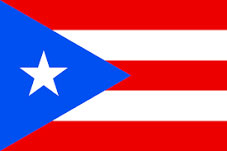 Bookmark/share this page


One World - Nations Online
countries of the world