About Montserrat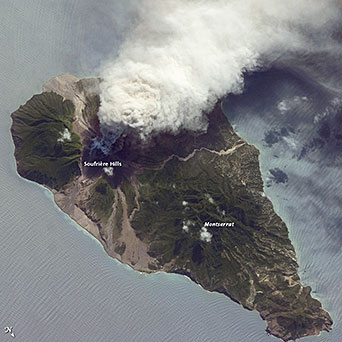 Soufriere Hills volcano eruption in 2009 as seen from the Spacestation.

Satellite view is showing the British Overseas Territory of Montserrat, a mountainous island of the Lesser Antilles in the Caribbean Sea, southeast of Puerto Rico.

The island was visited by Columbus in 1493 and named Santa María de Montserrat, after a Benedictine monastery on the mountain of Montserrat in Catalonia, in northeastern Spain. The island was colonized by Irish settlers in 1632.

Neighboring island states are: Antigua and Barbuda, Guadeloupe, Saint Kitts and Nevis.

Montserrat's de jure capital is Plymouth, but it is abandoned since 1997 due to the eruption of Soufriere Hills volcano, which buried Plymouth. Interim government buildings have been built at Brades, in the Carr's Bay/Little Bay vicinity at the northwest end of Montserrat where also the new airport was built.

When you zoom in you still can see the ruins of Plymouth, now within Montserrat's exclusion zone.

The island has a land area of 102 km² and a population of under 5,000 inhabitants. Official language is English.

The map shows Montserrat with towns, main roads and streets, as well as the location of John A. Osborne Airport Montserrat's only Airport (IATA code: MNI). Zoom out to see the location of Montserrat within the Caribbean.

To find a location use the form below.

To find a location type: street or place, city, optional: state, country.


Montserrat actual time: Time zone: Atlantic Standard Time (AST) :: GMT (UTC): - 4h