Honduras is a mountains country with narrow coastal plains in Central America that borders the Caribbean Sea, it also has a short coastline on the North Pacific Ocean (at the Gulf of Fonseca). Honduras is bordered by El Salvador, Guatemala, and Nicaragua and it shares maritime borders with Belize, Colombia, Cuba, Mexico, and the Cayman Islands (United Kingdom).

The country occupies an area of 112,492 km², compared it is slightly larger than Bulgaria, or slightly larger than than the U.S. state of Tennessee. Highest point in Honduras is Cerro Las Minas, the 2,870 m high mountain is part of the Cordillera de Celaque mountain range located in Lempira department in the western part of the country. The archipelago of the Bay Islands (Islas de la Bahía) to the north are part of the country.

Honduras has a population of 8.6 million people (in 2014 est.). Capital and largest city is Tegucigalpa, second largest city is San Pedro Sula.
Spoken languages are Spanish (official), Garifuna, Miskito, and Bay Islands Creole English, as well as various indigenous languages.

The detailed map below is showing Honduras and surrounding countries with international borders, provincial boundaries, the national capital Tegucigalpa/Comayagüela, provincial capitals, major cities, main roads, railroads and major airports.




You are free to use this map for educational purposes, please refer to the Nations Online Project.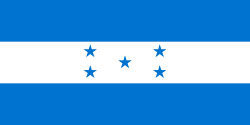 Bookmark/share this page


One World - Nations Online
All Countries of the World