Nicaragua is a Central American country bordering both the Caribbean Sea (Atlantic Ocean) and the North Pacific Ocean. It is bordered by Costa Rica and Honduras, and it shares maritime borders with Colombia and El Salvador.

Nicaragua is the largest country in Central America, it occupies an area of 130,370 km², compared it is somewhat larger than half the size of the United Kingdom or slightly smaller than New York state.
Eye-catching on the map is the large lake in the south of the country, Lago de Nicaragua (Lake Nicaragua), it is the largest freshwater lake in Central America.

Highest point in the country is the peak of Cerro Mogoton, the stated elevation might be incorrect – figures vary between 2,094 m, 2,107 m and 2,438 m above sea level, but anyway making Pico Mogoton the highest mountain in Nicaragua.

Nicaragua has a population of 6 million people (official estimate 2010). Capital and largest city is Managua. Spoken languages are Spanish (official), and several regional recognized languages like Miskito, Rama, Sumo, Miskito Coastal Creole, Garifuna, and Rama Cay Creole.

Map is showing Nicaragua and the surrounding countries with international borders, provincial boundaries, the national capital Managua, provincial capitals, major cities, main roads, railroads and major airports.



You are free to use this map for educational purposes, please refer to the Nations Online Project.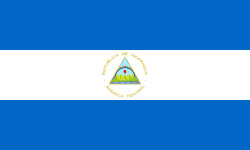 Bookmark/share this page


One World - Nations Online
All Countries of the World