Guatemala is a country in Central America south of Mexico that borders the Pacific Ocean and has a short coastline on the Gulf of Honduras in the Caribbean Sea. It is also bordered by Belize, El Salvador and Honduras. The country is known for its active volcanoes, its pristine rain forests with a rich biodiversity, and ancient Mayan sites.

With an area of 108,889 km² , the country is about the size of Iceland, or slightly smaller than the U.S. state of Pennsylvania. Its climate is tropical, hot and humid in its lowlands, along the eastern side of the country, and cooler in its central highlands. Guatemala's landscape offers beside narrow coastal plains, two mountain ranges, the Sierra Madre which runs along the Pacific coast, and the Sierra de los Cuchumatanes range which extends from the country's center to the Caribbean Sea. Most of Guatemala's population lives on the rich soil of the limestone plateau between the two mountain chains.

Guatemala's geographical highscores are: largest body of water is Lake Izabal, highest point is Tajumulco volcano at 4,211 m, the tallest mountain in Central America, and the longest river is Río Motagua.

Guatemala has a population of 15.8 million (in 2014); capital city is Guatemala City; official language is Spanish.

Map is showing Guatemala and the surrounding countries with international borders, provincial boundaries, the national capital Guatemala (City), provincial capitals, major cities, main roads, railroads and major airports.



You are free to use this map for educational purposes, please refer to the Nations Online Project.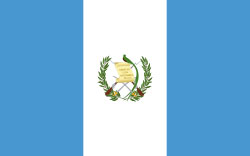 Bookmark/share this page


One World - Nations Online
All Countries of the World