Flag of East Timor

Background:
The East Timorese, living in the eastern half of the island of Timor, which lies between Indonesia and Australia, occupy a land whose area is 14,874 km2.
The population in 1975, when the Portuguese left, was 680,000 - 97% Timorese (including mestizos), 2% Chinese, under 1% Portuguese. (The population today is about 800,000 - 78% Timorese, 2% Chinese, 20% Indonesian.
East Timor has a common boundary with West Timor, which is part of Indonesia, the former Dutch East Indies.
For centuries the East Timorese had been farmers, living in scattered hamlets and eating what they grew. Only a few coastal East Timorese were fishermen. Trading and shop keeping had for generations been in the hands of the Chinese.
East Timor is extremely mountainous, so the majority of East Timorese had always lived in isolation, far from towns and foreign influences, tied to their fields and animistic practices. In spite of centuries of Catholic missionary work by the Portuguese, in 1975 animists still numbered as much as 72 % of the population. The local Timorese kings still played an important part in their lives and allegiances, whilst interference from Portuguese administrators and military was almost non-existent. (Source: Timor Today)

border countries: Indonesia
related countries: Australia, Indonesia, Japan, Portugal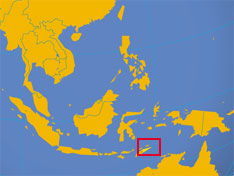 Official Name:
Republika Demokratika Timor Loro Sa'e [Tetum]
Republica Democratica de Timor-Leste [Portuguese]
short form: Timor Loro Sa'e [Tetum]; Timor-Leste [Portuguese]
conventional long form: Democratic Republic of Timor-Leste
conventional short form: East Timor

ISO Country Code: .tl (.tp is being phased out)

Time:
Local Time = UTC +9h
Actual Time:

Sat-Oct-29 08:29



Country Calling Code: +670

Capital City: Dili

Other Cities: Baucau, Dare.


Government:
Type: Parliamentary democracy.
Independence: 28 November 1975 (from Portugal).
Restoration of independence: 20 May 2002. (from Indonesia)
Constitution: March 2002.

Geography:
Location: Southeast Asia, on the southernmost edge of the Indonesian archipelago, northwest of Australia.
Area: 14,874 km² (5,742 sq. mi.)
Terrain: Mountainous.
Highest point: Foho Tatamailau 2,963 m

Climate: Tropical; hot, semi-arid; rainy and dry seasons.

People:
Nationality: Timorese.
Population: 1 million (2010 census)
Religion: Catholic 96 %.
Languages: Portuguese, Tetum (official); English, Bahasa Indonesia (working languages).
Literacy: 41%.

Natural resources: Gold, petroleum, natural gas, manganese, marble.

Agriculture products: Coffee, rice, corn, cassava, sweet potatoes, soybeans, cabbage, mangoes, bananas, vanilla.

Industries: Printing, soap manufacturing, handicrafts, woven cloth.

Exports partners: Indonesia 100% (2005)
Exports - commodities: Coffee, sandalwood, marble; note - potential for oil and vanilla exports.

Currency: US dollar (USD)

Source: Ministry of Foreign Affairs and Cooperation, Timor-Leste and other.