Flag of Liechtenstein

Background:
The Principality of Liechtenstein was established within the Holy Roman Empire in 1719; it became a sovereign state in 1806. Until the end of World War I, it was closely tied to Austria, but the economic devastation caused by that conflict forced Liechtenstein to conclude a customs and monetary union with Switzerland.
Since World War II (in which Liechtenstein remained neutral) the country's low taxes have spurred outstanding economic growth. However, shortcomings in banking regulatory oversight have resulted in concerns about the use of the financial institutions for money laundering.
(Source: CIA - The World Factbook)

border countries: Austria, Switzerland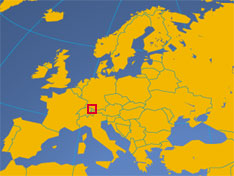 Official Name:
Fürstentum Liechtenstein
short form: Liechtenstein
int'l long form: Principality of Liechtenstein
int'l short form: Liechtenstein

ISO Country Code: li

Time:
Local Time = UTC +1h
Actual Time:

Mon-Dec-5 21:34



Country Calling Code: +423

Capital City: Vaduz (5 200)

Other Cities: Balzers: (4 400), Eschen: (4 000), Schaan: (5 700), Triesen: (4 600),

Government:
Type: Constitutional, hereditary monarchy on a democratic and parliamentary basis.
Independence: on 23 January 1719 was the Imperial Principality of Liechtenstein established;
12 July 1806 established independence from the Holy Roman Empire.
Constitution: 5 October 1921.

Geography:
Location: Landlocked small Central European country, between Austria and Switzerland.
Area: 160 km² (61.7 sq. mi.)
Terrain: 66 % mountains (Alps), the remainder hills and plateau situated next to the Rhine Valley.
Highest mountain: Grauspitz 2 599 m

Climate: Continental with four seasons, cold winters with snow or rain; cool to moderately warm summers.

People:
Nationality: Noun - Liechtensteiner(s), adjective - Liechtenstein.
Population: 36,000 (2011)
Ethnic groups: Liechtensteiners, Swiss, Austrians and Germans.
Religions: Roman Catholic 80.4%, Protestant 7.1%, other religions 12.5%.
Languages: German (official), Alemannic dialect.
Literacy: 99%

Natural resources: Hydroelectric potential, arable land.

Agriculture products: Wheat, barley, corn, potatoes; livestock, dairy products.

Industries: Electronics, metal manufacturing, dental products, ceramics, pharmaceuticals, food products, precision instruments, tourism, optical instruments.

Exports partners: EU 62.6% (Germany 28.7%, Austria 22.6%, France 13.5%, Italy 10.6%, UK 3.1%), USA 7.9% (2005)

Imports partners: EU, Switzerland (2005)

Currency: Swiss Franc (CHF)

Source: Liechtenstein Government Office and others.