Uzbekistan is a landlocked Central Asian country, that lies south and southeast of the Aral Sea.

With an area of 447,400 km², Uzbekistan is about the size of Sweden, or slightly larger than the U.S. state of California.
The country has a population of 31 million inhabitants (in 2015). Capital city is Tashkent, second-largest city is Samarkand.
Spoken languages are Uzbek and Russian.

Countries with international borders to Uzbekistan are Afghanistan, Kazakhstan, Kyrgyzstan, Tajikistan, and Turkmenistan.

Administrative Divisions of Uzbekistan
Uzbekistan is divided into 12 provinces (viloyat), one autonomous republic, and one independent city (shahar). These divisions (province capital in parentesis) are the provinces of Andijan (Andijon), Buxoro (Buxoro (Bukhara)), Fergana (Farg'ona (Fergana)), Jizzax (Jizzax), Namangan (Namangan), Navoiy (Navoiy), Qashqadaryo (Qarshi), Samarqand (Samarqand), Sirdaryo (Guliston), Surxondaryo (Termiz), Tashkent (Toshkent (Tashkent)), Xorazm (Urganch), the autonomous republic of Karakalpakstan (Qaraqalpaqstan) Respublikasi (Nukus), and the independent city of Tashkent (Toshkent Shahri).

Click on the map to enlarge.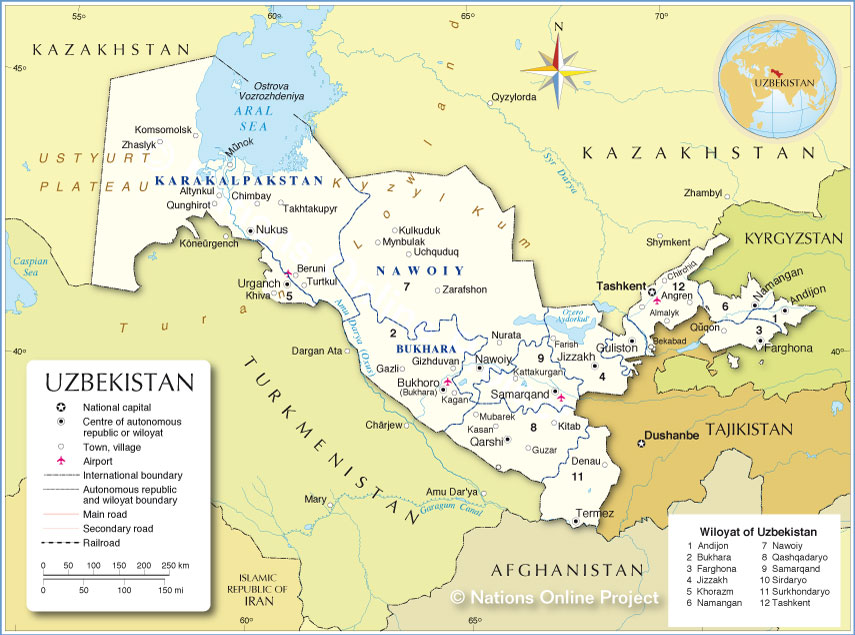 Administrative Map of Uzbekistan