Administrative Divisions of Kazakhstan
Kazakhstan is divided into 14 provinces (Kazakh: облыстар, oblıstar) or regions (sing. oblast (область), pl. oblasttar (областтар)).

Astana, and the largest city Almaty are administratively independent cities with a status comparable to an oblast.
Baikonur (Qyzylorda province) has a special status because it's being leased to Russia with Baikonur cosmodrome until 2050.

Oblast (capitals in parentheses):
Akmola (Kokshetau), Aqtöbe (Aktobe), Almaty Province (Taldykorgan), East Kazakhstan (Oskemen), Jambyl (Taraz), Karagandy (Karagandy), Kostanay (Kostanay), Qyzylorda (Qyzylorda, also Kyzylorda), Manggystau (Aktau), North Kazakhstan (Petropavl), Pavlodar (Pavlodar), South Kazakhstan (Shymkent), West Kazakhstan (Oral), and Zhambyl (Zhambyl).

Click on the map to enlarge.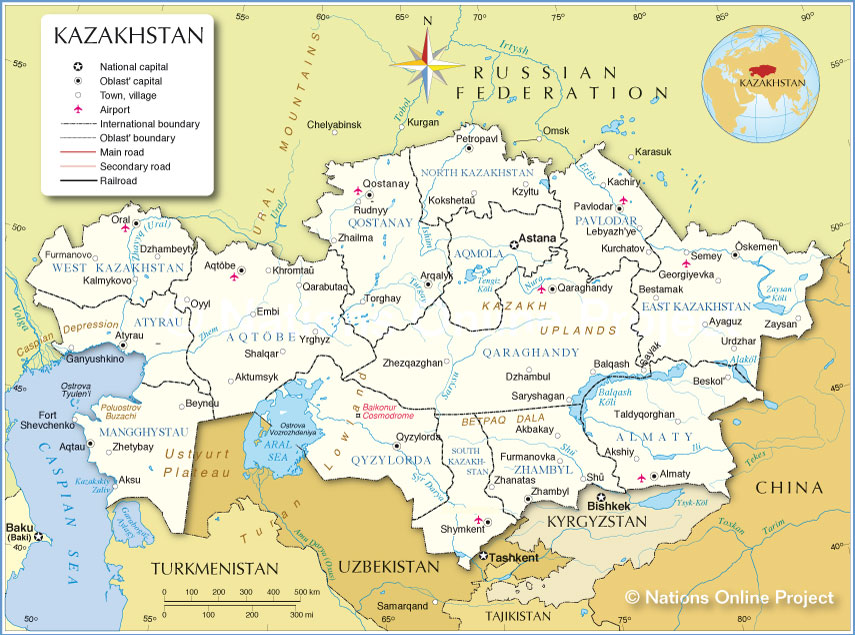 Administrative Map of Kazakhstan