About Cebu City

Satellite view is showing Cebu City in the

Philippines. The country's 'second city' is located on the eastern coast of Cebu island in the Central Visayas region (Region VII). It is the oldest city in the Philippines.

Before the Spanish Colonial Era, Cebu city was part of the Rajahnate of Cebu, a monarchical state on the island of Cebu until 1565. On the 7th April 1521, Portuguese explorer Ferdinand Magellan landed in Cebu, he was killed 20 days later in a skirmish with natives.

The Cebu is the core of the Cebu Metropolitan Area with a population of more than 2.5 million people.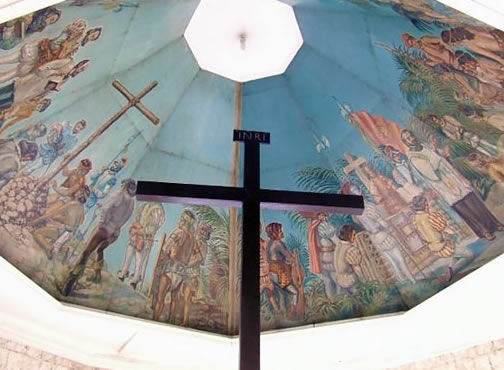 Image: © Pipoyjohn
Cebu City Points of Interest
Museums:
Museo Sugbo, the Cebu Provincial Museum with several galleries in a former prison: Casa Gorordo Museum, displays historical relics, furniture and paintings of the time period between 1860 to 1920. Jose R. Gullas Halad Museum, a homage to the musical heritage of Cebu.
Jumalon Museum, Butterfly Sanctuary and Art Gallery, a private mini museum, art gallery and nature reserve with a vast collection of butterflies.

Cathedral Museum of Cebu, ecclesiastical history museum displays items from Spanish colonial times.

Churches:
Basilica del Santo Niño, formerly the Church and Convent of Saint Augustine, the present Minor Basilica was built between 1735 and 1739/40.
Cebu Metropolitan Cathedral, typical Spanish colonial church, seat of the Metropolitan Archdiocese of Cebu.

Other Tourist Attractions:
Mactan Island, densely populated island resort, located a few kilometers from Cebu Island.
Fort San Pedro, Spanish built fort and historical park at Plaza Indepedencia.
 
The map shows a city map of Cebu City with expressways, main roads and streets, Mactan-Cebu International Airport (IATA code: CEB) is located 14.3 km (8.9 mi) by road (via Central Nautical Highway) east of Cebu City.

To view just the map, click on the "Map" button.

To find a location type: street or place, city, optional: state, country.


Local Time Philippines:

Friday-September-29 09:42

Time zone: Philippine Standard Time (PST) UTC/GMT +8 hours