The Human Development Index 2002

Human development is first and foremost about allowing people
to lead the kind of life they choose - and providing them with the
tools and opportunities to make those choices.

Human development is about much more than the rise or fall of national incomes. It is about creating an environment in which people can develop their full potential and lead productive, creative lives in accord with their needs and interests. People are the real wealth of nations. Development is thus about expanding the choices people have to lead lives that they value. And it is thus about much more than economic growth, which is only a means - if a very important one - of enlarging people's choices.

Fundamental to enlarging these choices is building human capabilities - the range of things that people can do or be in life. The most basic capabilities for human development are to lead long and healthy lives, to be knowledgeable, to have access to the resources needed for a decent standard of living and to be able to participate in the life of the community. Without these, many choices are simply not available, and many opportunities in life remain inaccessible.
(cited from UN Human Development Report 2004)

Below you will find the chart of the Human Development Index (HDI) about the world's nations state of developing. The Index, published annually by the UN, is a summary measure of human development. It measures the average achievements in a country in three basic dimensions of human development:

A long and healthy life
as measured by life expectancy at birth.



Knowledge
as measured by the adult literacy rate (with two-thirds weight) and the combined primary, secondary and tertiary gross enrolment ratio (with one-third weight).



A decent standard of living
as measured by GDP per capita* (PPP US$).

* Gross Domestic Product, the value of all goods and services produced in the economy divided by the population.

Each year, countries are ranked according to these measures.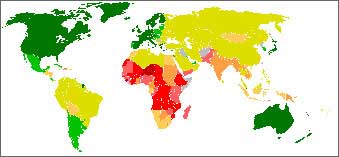 Worldmap of Human Development Index 2018 (click to enlarge)

#


Country

Life expectancy at birth (years) 2002

Adult literacy rate (%ages 15 and above) 2002

Combined gross enrolment ratio for primary, secondary and tertiary schools (%) 2001/02

GDP per capita (PPP US$) 2002

Life
expectancy
index

Education index

GDP index

Human development index (HDI) value 2002

GDP per capita (PPP US$) rank minus HDI rank

1
Norway

78.9

..

98

36,600

0.90

0.99

0.99

0.956

1

2
Sweden

80.0

..

114

26,050

0.92

0.99

0.93

0.946

19

3
Australia

79.1

..

113

28,260

0.90

0.99

0.94

0.946

9

4
Canada

79.3

..

95

29,480

0.90

0.98

0.95

0.943

5

5
Netherlands

78.3

..

99

29,100

0.89

0.99

0.95

0.942

6

6
Belgium

78.7

..

111

27,570

0.90

0.99

0.94

0.942

7

7
Iceland

79.7

..

90

29,750

0.91

0.96

0.95

0.941

1

8
USA

77.0

..

92

35,750

0.87

0.97

0.98

0.939

-4

9
Japan

81.5

..

84

26,940

0.94

0.94

0.93

0.938

6

10
Ireland

76.9

..

90

36,360

0.86

0.96

0.98

0.936

-7

11
Switzerland

79.1

..

88

30,010

0.90

0.95

0.95

0.936

-4

12
UK

78.1

..

113

26,150

0.88

0.99

0.93

0.936

8

13
Finland

77.9

..

106

26,190

0.88

0.99

0.93

0.935

6

14
Austria

78.5

..

91

29,220

0.89

0.96

0.95

0.934

-4

15
Luxembourg

78.3

..

75

61,190

0.89

0.91

1.00

0.933

-14

16
France

78.9

..

91

26,920

0.90

0.96

0.93

0.932

0

17
Denmark

76.6

..

96

30,940

0.86

0.98

0.96

0.932

-12

18
New Zealand

78.2

..

101

21,740

0.89

0.99

0.90

0.926

6

19
Germany

78.2

..

88

27,100

0.89

0.95

0.94

0.925

-5

20
Spain

79.2

97.7

92

21,460

0.90

0.97

0.90

0.922

5

21
Italy

78.7

98.5

82

26,430

0.89

0.93

0.93

0.920

-3

22
Israel

79.1

95.3

92

19,530

0.90

0.94

0.88

0.908

5

23
Hong Kong

79.9

93.5

72

26,910

0.91

0.86

0.93

0.903

-6

24
Greece

78.2

97.3

86

18,720

0.89

0.95

0.87

0.902

5

25
Singapore

78.0

92.5

87

24,040

0.88

0.91

0.92

0.902

-3

26
Portugal

76.1

92.5

93

18,280

0.85

0.97

0.87

0.897

6

27
Slovenia

76.2

99.7

90

18,540

0.85

0.96

0.87

0.895

3

28
Korea, South

75.4

97.9

92

16,950

0.84

0.97

0.86

0.888

9

29
Barbados

77.1

99.7

88

15,290

0.87

0.95

0.84

0.888

11

30
Cyprus

78.2

96.8

74

18,360

0.89

0.89

0.87

0.883

1

Source: UN Human Development Report 2004