Searchable Map of Nelspruit using Google Earth Data
Satellite View is showing Mbombela, the capital of the Mpumalanga province in South Africa.
The city is located in the north-eastern part of the country on the Crocodile River about 100 km (60 mi) west of the Mozambique border.
The city of Nelspruit was officially renamed Mbombela by the South African government in October 2009.

Mbombela has a population of about 220,000 inhabitants. Spoken languages in Mpumalanga are Swati, Zulu, Tsonga, Ndebele, and Northern Sotho.

The city is a center for manufacturing and an agricultural hub for northeastern South Africa.
Mpumalanga's mild subtropical climate (winter months are June, July and August) facilitates the growing of citrus and tropical fruits, for this reason many fruit production farms settle in the area around Mbombela.

Nelspruit is a gateway to Mpumalanga province and a stopover point for tourists travelling to the Kruger National Park. The city is one of the ten venues for the FIFA World Cup 2010.
When in Mbombela you may visit Lowveld National Botanical Garden, the Kruger National Park one of the largest game reserves in Africa.

The map shows a city map of Mbombela with expressways, main roads and streets,
and the location of Mbombela Stadium as well as Nelspruit Airport (IATA Code: NLP) southwest of Mbombela. Zoom out (-) to find Kruger Mpumalanga International Airport (IATA Code: MQP) north east of the city.

To find a location use the form below.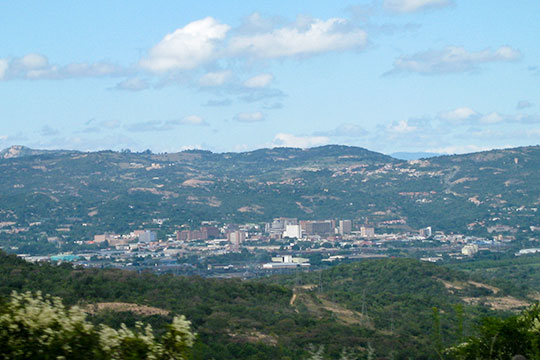 View of Mbombela City (Nelspruit)
Image: Jeppestown