Searchable Map and Satellite View of the City of Amman using Google Earth Data
Satellite View is showing Amman, commercial center and the national capital of

Jordan, located on the Jabbok River, at the eastern boundary of the Ajlun Mountains in north-western Jordan about 40 km northeast of the northern tip of the Dead Sea.
Amman has a population of about 1.5 million people and more than 2 million in its metropolitan area.
Official language is Arabic.

History (short version)
The city was occupied since prehistoric times, it was the capital of the Ammonites from the 13th to the 6th centuries b.c. During this time it was engaged in a struggle with the Israelites that ended when King David captured the city c. 1010 b.c. It was later captured by Ptolemy Philadelphus of Egypt who rebuilt the city between 285 and 246 b.c. In 63 b.c. it became a city of the Decapolis, a group of ten cities on the eastern frontier of the Roman Empire in Judea and Syria. In 1921under Sharif Abdullah bin al-Husayn it became the capital of Transjordan (now Jordan).

The Map shows a city map of Amman with expressways, main roads and streets, zoom out to find Queen Alia International Airport situated 32 km (20 mi) south of Amman.
To find a location use the form below. To view just the map, click on the "Map" button.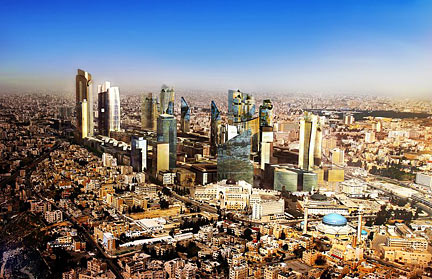 Amman, the future Central Business District, Abdali New Downtown.
Image: Joeyzaza