Map is showing the three Baltic Countries: Estonia, Latvia and Lithuania.
The Baltic States are three countries west of European Russia, south of the Gulf of Finland, and north of Poland and Belarus. All three countries have a coastline at the Baltic Sea.

From north to south the countries are Estonia, Latvia, and Lithuania, they occupy a low-lying region known as the Baltic Plains, a portion of the vast European Plain, the largest landform in Europe without mountains. During the Pleistocene epoch (Ice Age), continental sized ice sheets scoured and abraded the plain's surface, eroded mountains to their bases and rendered the whole landscape flat.

After a long and tumultuous history with many changing political powers, the Red Army (of Russia) occupied all of the territory of Estonia, Latvia, and Lithuania in June 1940 and installed pro-Soviet governments in all three countries. The Soviets staged rigged elections and the newly "elected" parliaments of all three countries formally applied to "join" the Soviet Union in August 1940. The "Baltic republics" were incorporated into the union as Soviet Socialist Republics. The population of the republics suffered repressions, executions and mass deportations. The Russian Language was instituted as the only working language. Tens of thousands people were deported to Gulag prisons or labor camps by the Soviet government.
Nazi Germany invaded the area in 1941, but instead of liberation, the Germans also used discrimination, mass deportations and mass killings to substantiate their power. In 1944 the countries were reoccupied by the Red Army and Soviet rule was re-established. It was the Singing Revolution that led to the restoration of the independence of Estonia, Latvia and Lithuania. Dissatisfaction with the Soviet system and provoked mass demonstrations, various protests and acts of defiance in the Baltics between 1987 and 1991. In a peaceful political demonstration a human chain connected the three Baltic capitals – Tallinn, Riga and Vilnius on 23 August 1989.

With an area of 175,000 km² (67,567 sq mi) the region of the Baltic States is slightly larger than twice the size of Austria, or somewhat larger than Florida.

The Baltic countries have a population of 6.1 million people. Spoken languages are Estonian, Latvian, and Lithuanian. Many residents of a certain age are also proficient in Russian.



You are free to use this map for educational purposes (fair use), please refer to the Nations Online Project.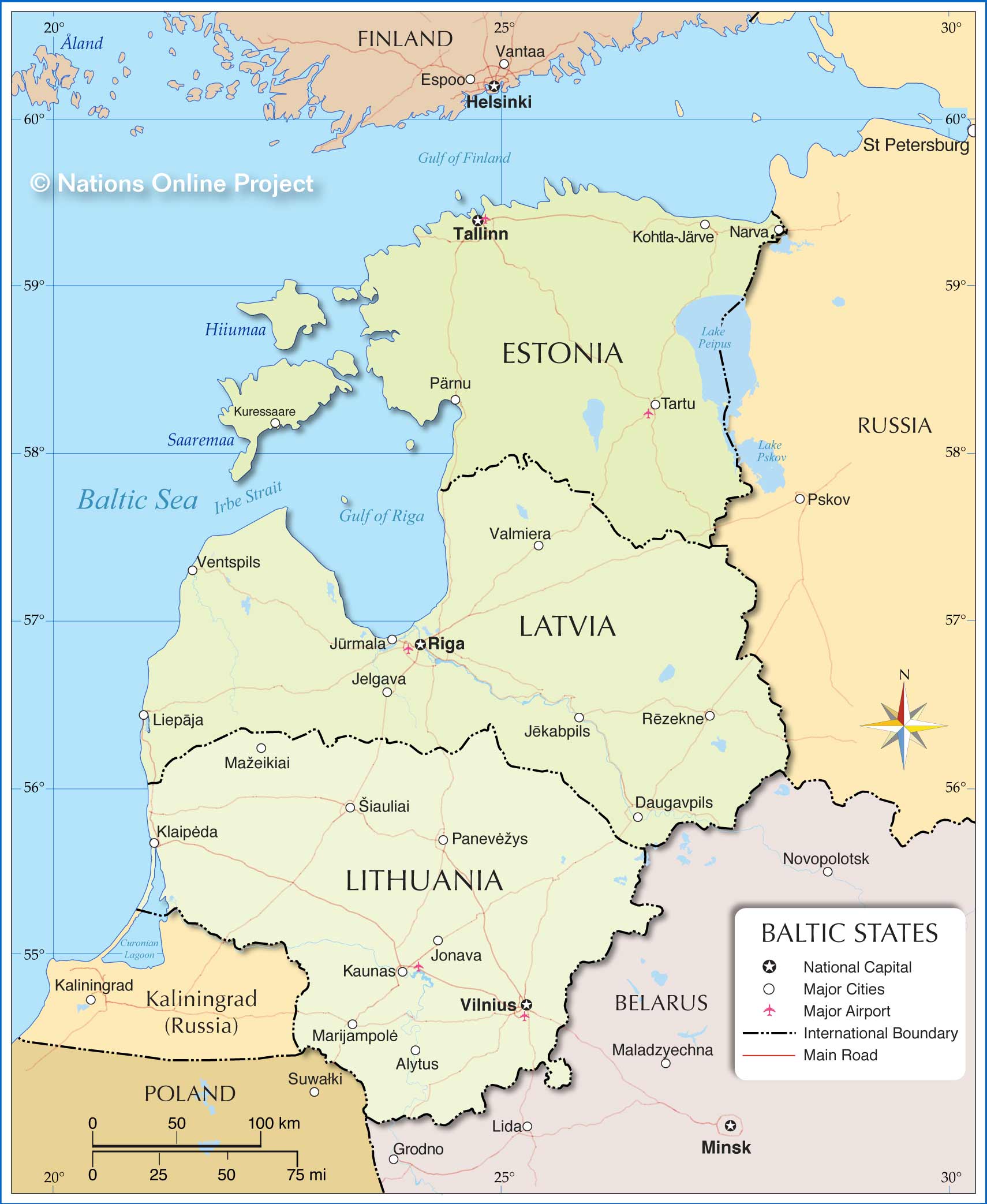 Map of the Baltic Countries