Searchable Map and Satellite View of Yerevan using Google Earth Data
Satellite view is showing Yerevan, largest city and the national capital of

Armenia, a landlocked country between Turkey and Azerbaijan. The city is situated in Eastern Armenia in the heart of the Armenian Highland at an an average height of about 1000 m. The city is divided by the Hrazdan River, a tributary of the Aras River, which forms in part the Turkish-Armenian border.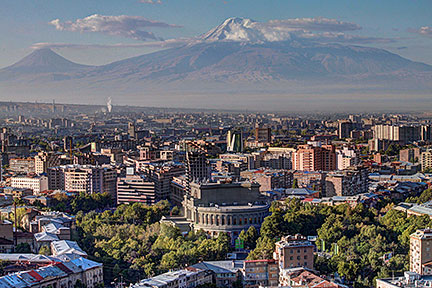 Image: Serouj Ourishian

Like many countries with only one primary city, Yerevan's capital is the administrative, cultural, and industrial center of the nation.

Yerevan is one of the world's oldest continuously-inhabited cities. Its founding dates back to the ancient Kingdom of Van (Urartu or the Kingdom of Ararat) in the 9th century BC. Today the city has a population of about 1 million people. The city has been the capital of Armenia since 1918 and it is the twelfth capital in the long history of Armenia. Spoken languages are Armenian, an Indo-European language, and Russian.

The map shows a city map of Yerevan with expressways, main roads and streets, zoom out to find the location of Zvartnots International Airport (IATA code: EVN) about 12 km (8 mi) west of the city center.


To find a location use the form below.

To find a location type: street or place, city, optional: state, country.


Local Time Armenia:

Wednsday-October-27 21:17

UTC/GMT +4 hours
DST time zone offset: UTC/GMT +5 hours