Searchable Map and Satellite View of Yemen using Google Earth Data

Satellite view is showing the Middle East country on the south west corner of the Arabian Peninsula, bordering the Arabian Sea, the Gulf of Aden, and the Red Sea.

With an area of 527,970 km², the country is about the size of France or about twice the size of Wyoming.
Yemen has a population of 26 million inhabitants (2014).

Largest city and the capital of Yemen is Sana'a; the country's primary seaport is Aden. Spoken language is Arabic (official).

Countries with international borders to Yemen are Oman and Saudi Arabia.

The map shows Yemen with cities, towns, expressways, main roads and streets.
To find a location use the form below.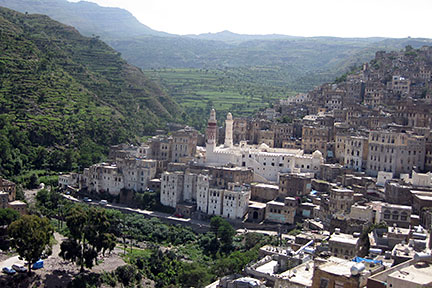 Jibla, was the capital of the Sulayhid dynasty, an Ismaili Shia dynasty established in 1047 that ruled at its peak most of historical Yemen. -

Image: Waleed





Bookmark/share this page



To find a location type: street or place, city, optional: state, country.


Local Time Yemen:

Thursday-May-24 12:54

Time zone: Arabia Standard Time (AST) :: UTC/GMT +3 hours