Canada is a country occupying most of the northern North America. The second largest country in the world has an area of 9,984,670 km², it is 355,580 km², larger than the United States, thats the size of Germany. Canada stretches from the Pacific Ocean in the west to the Atlantic Ocean in the east.

The country is bordered by Alaska (USA) in west, and by 12 US states of the continental United States in south, Canada shares maritime borders with Greenland (an autonomous territory of Denmark) and Saint Pierre and Miquelon, an island which belongs to France.

For its size, the country is sparsely inhabited, with a population of "just" 35.7 million (2015 official estimate), most of the people live in Canada's "South", in the provinces close to the U.S. border.

Capital city is Ottawa, largest city is Toronto, followed by Montreal, Vancouver, Calgary, Edmonton, and Quebéc City.

Spoken languages are English and French (both official), and a wide range of indigenous languages.

Canada is a federation of 10 provinces and three territories.
The 10 provinces are (capital names in parenthesis): Alberta (Edmonton), British Columbia (Victoria), Manitoba (Winnipeg), New Brunswick (Fredericton), Newfoundland and Labrador (St. John's), Nova Scotia (Halifax), Ontario (Toronto), Prince Edward Island (Charlottetown), Quebec (Québec), and Saskatchewan (Regina).
The 3 territories are (capital names in parenthesis): Northwest Territories (Yellowknife), Nunavut (Iqaluit), and the Yukon (Whitehorse).


Map is showing Canada and the surrounding countries with international borders, provincial boundaries, the national capital Ottawa, provincial capitals, major cities, and major airports.



You are free to use this map for educational purposes, please refer to the Nations Online Project.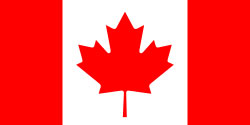 Bookmark/share this page


One World - Nations Online
All Countries of the World