The Bahamas is a country in the northwestern West Indies, located 80 km (50 mi) south-east of the coast of Florida (USA) and north of Cuba. The Caribbean islands group consists of around 700 islands and islets, and more than 2,000 cays (coral reefs). Only about 30 islands are inhabited.

The Bahamas has become one of the world's foremost vacation resorts. Nassau, on the island of New Providence is the political capital and the commercial hub of the archipelago.
Bimini is the westernmost island of the Bahamas, situated about 80 km (53 mi) east of Miami, Florida, making it the closest point in the Bahamas to the US mainland.

Lynden Pindling International Airport (IATA Code: NAS) formerly known as Nassau International Airport, is the largest airport in the Bahamas, and the primary international gateway into the country. The airport is located about 16 kilometers (10 mi) west of Nassau City.

The Bahamas share maritime borders with: Cuba, Haiti, the United States, and Turks and Caicos Islands (UK).

Map is showing the islands of The Bahamas with the national capital Nassau, major towns, and main roads.





You are free to use this map for educational purposes, please refer to the Nations Online Project.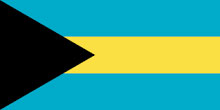 Bookmark/share this page


One World - Nations Online
countries of the world