Flag of Mecklenburg-Vorpommern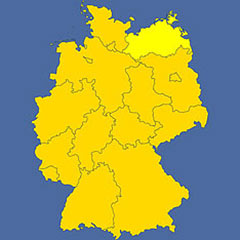 Official Name: Mecklenburg-Vorpommern
en: Mecklenburg-Western Pomerania

Nick name(s): Meck Pomm (Mc Pomm)
Motto: MV tut gut. (MV will do you good.)

Abbreviation: MV

Time zone: Central European Time (CET); Central European Summer Time (CEST)
(UTC+1/+2)

Capital City: Schwerin

Other Cities: largest city: Rostock (pop. 200,000), Greifswald, Güstrow, Neubrandenburg, Stralsund and Wismar.

Geography:
Location: northeastern part of Germany bordering the Baltic Sea in north and Poland in east.
Area: 23,193 km²

People:
Population (2012): 1.6 million
Religions: 19.1% Protestants, 2.9% Roman Catholic, 76.5% no religious affiliation.

Natural resources: Marine products, timber, gravel and sand, chalkstone.

Agriculture products: Grain, canola (colza), potatoes.

Industries: Agriculture, fishery and fish processing, food industry, shipbuilding, tourism.