Flag of the German Federal State of Sachsen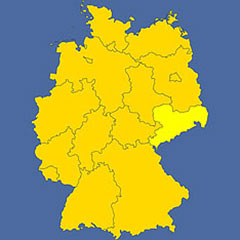 Official Name: Freistaat Sachsen
short form: Sachsen
en: Saxony
Nick name: Silicon Saxony
Motto: Sachsen. Land von Welt. | Saxony. State of the Arts.
Abbreviation: SN

Time zone: Central European Time (CET); Central European Summer Time (CEST)
(UTC+1/+2)

Capital City: Dresden

Other Cities: Chemnitz, Leipzig, Bautzen, Görlitz, Hoyerswerda, Meißen, Zwickau.

Geography:
Location: central east Germany, borderin Poland in east, and the Czech Republic in south.
Area: 18 413 km²

People:
Population (2013): 4.0 million
Religions: 28.7% Protestants, 2.8% Roman Catholic, 64.6% no religious affiliation.

Natural resources: Kaolin

Agriculture products: Grain, diary products, livestock.

Industries: Chip producing, publishing, porcelain.