Flag of Thüringen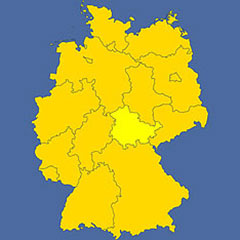 Official Name: Thüringen
en: Thuringia
Motto: "The Green Heart of Germany."

Abbreviation: TH

Time zone: Central European Time (CET); Central European Summer Time (CEST)
(UTC+1/+2)

Capital City: Erfurt

Other Cities: Weimar (Culture capital 1999), Jena (City of Lights), Bad Liebenstein, Eisenach (City of Wartburg Castle), Gera, Gotha, Ilmenau.

Geography:
Location: in Middle Germany north of Bavaria
Area: 16,172 km²

People:
Population (2012): 2.17 million
Religions: 21% Protestants, 5,3% Roman Catholic, 72% no religious affiliation.

Natural resources: Gravel sand, limestone, gypsum, clay slate.

Agriculture products: biofuels and biomass, livestock, cereal, potatoes, vegetables, fruits.

Industries: Automobile manufacture and automotive supply, microelectronics, optics and optoelectronics.