Flag of the State of Saarland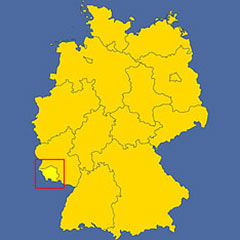 Official Name: Saarland

Motto: mit grenzenlosem Charme (with boundless charm)

Abbreviation: SL

Time zone: Central European Time (CET); Central European Summer Time (CEST)
(UTC+1/+2)

Capital City: Saarbrücken

Other Cities: Homburg, Neunkirchen, Saarlouis, Völklingen.

Geography:
Location: in south-west of Germany
Area: 2,568 km²

People:
Population (2013): 1 million
Religions: 36,4% Protestants, 54,5% Roman Catholic, 9,1% no religious affiliation.
Languages: German, French

Natural resources: Forests.

Agriculture products: Grain, dairy products, livestock.

Industries: Automotive industries, engineering, steel production, mining.


Saarland, named after the Saar River, is in both area and population, the smallest of the German area states (Flächenländer), not counted the federal city states. It is surrounded by Rhineland-Palatinate in north and east and borders France in the south and west and Luxembourg in west.

Saarbrücken's film festival for German-speaking up- and-coming talent has been the launching pad for glittering careers, as Franka Potente and Til Schweiger have proved. The state has over the last 200 years changed nationality eight times and the French influence is highly evident. Mining is now no longer the key industry, with steel and car-making competing with IT for the number one slot. The steel industry bequeathed a fascinating attraction: Völklingen Ironworks, which is included in the UNESCO World Cultural Heritage List. The state's most famous name, however, has to be that of Villeroy & Boch, a global player in the porcelain market.