Flag of the Free State of Bavaria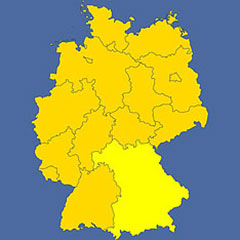 Official Name: Freistaat Bayern
en: Free State of Bavaria

Nick name: The Beer State

Abbreviation: BY

Time zone: Central European Time (CET); Central European Summer Time (CEST)
(UTC+1/+2)

Capital City: München (Munich; pop. 1.4 million)

Other Cities: Augsburg, Bamberg, Bayreuth, Erlangen, Fürth, Ingolstadt, Nürnberg (Nuremberg), Passau, Regensburg, Würzburg.


Geography:
Location: in the southeastern part of Germany, bordering Czech Republic in east, Austria in south
Area: 70,550 km²


People:
Population (2013): 12.5 million
Religions: 25% Protestants, 55% Roman Catholic.

Natural resources: Sand and gravel, natural stone, clay, silica sand, kaolin.

Agriculture products: Dairy products, cheese, meat and meat products, sugar, beer, hops.

Industries: Car industry, mechanical engineering, electrical engineering, foods, tourism.


The Free State of Bavaria (in German: Freistaat Bayern) comprises the entire southeast portion of Germany. It is geographically the largest federal state in the country.
Bayern shares international borders with Austria and the Czech Republic as well as with Switzerland (across Lake of Constance). Neighbouring federal states within Germany are Baden-Württemberg, Hesse, Thuringia (Thüringen) and Saxony (Sachsen).

The landscape of Bavaria consists of four major regions: the Bavarian Alps, with Zugspitze, the highest mountain in Germany at 2,962m in south; the Alpine foothills, known as the Bavarian Alpine Foreland with its numerous lakes; the Eastern Bavarian central mountains, a wooded low-mountain region with Germany's first national park, the Bavarian Forest National Park; and in west, the plateaus of Swabia and Frankenalb (Jura).

Bavaria is divided in 7 administrative regions: Oberfranken (Upper Franconia), Mittelfranken (Middle Franconia), Unterfranken (Lower Franconia), Bayerisch Schwaben with Allgäu (Bavarian Swabia), Oberpfalz, (Upper Palatinate), Oberbayern (Upper Bavaria), and Niederbayern (Lower Bavaria)