Flag of the German Federal State of Brandenburg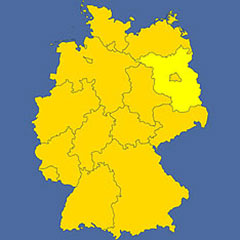 Official Name: Brandenburg

Abbreviation: BB

Time zone: Central European Time (CET); Central European Summer Time (CEST)
(UTC+1/+2)

Capital City: Potsdam (160,000)

Other Cities: Brandenburg an der Havel, Cottbus, Frankfurt (Oder)

Geography:
Location: north east of Germany, surrounding Berlin and bordering Poland in east.
Area: 29,477.16 km² (11,382 sq mi)

People:
Population (2013): 2,5 million
Religions: 17.8% Protestants, 2.2% Roman Catholic, 78.9% no religious affiliation.

Natural resources: lignite, gravel and sand.

Agriculture products: livestock, grain, vegetables, fruit.

Industries: Energy industry, steel, mechanical engineering, biotechnology, tourism.


The densely forested state of Brandenburg with its numerous
lakes is located in the north east of Germany, bordering Poland in the east, Mecklenburg-Western Pomerania in the north, Saxony in the south, Saxony-Anhalt in the west, and Lower Saxony in the northwest, it surrounds but excludes the capital city and federal state of Berlin.
Area 29,479 km² (11,382 sq mi); Population 2,55 million inhabitants.