Flag of Baden-Württemberg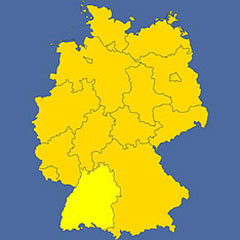 Official Name: Baden-Württemberg
Baden-Wuerttemberg
Nick name(s): Musterländle (model state), Schwabenland ()
Motto: Schaffe, Schaffe, Häusle baue... (work hard and build a little house)
Slogan: "We can do anything. Except speak standard German."

Abbreviation: BW

Time zone: Central European Time (CET); Central European Summer Time (CEST)
(UTC+1/+2)

Capital City: Stuttgart (pop. 600,000)

Other Cities: Freiburg, Heidelberg, Kaiserslautern, Karlsruhe, Konstanz (Constance), Mannheim, Tübingen

Geography:
Location: southwestern part of Germany, bordering Switzerland in south and France in west.
Area: 35,752 km²

Climate: four distinctive seasons, warm summer, cold winter, around Lake of Constance almost subtropical, mediterranean.

People:
Population (2013): 10.8 million
Ethnic Groups: Schwaben, adj,: Schwäbisch (Swabian), Badenser, other
Languages: spoken languages are the distinctive Allemanic dialects of Swabian (Schwäbisch) and the Baden dialect (Badenser, Badisch)

Natural resources: Granite, limestone, ironstone, salt and potter's clay.

Agriculture products: Oats, spelt, rye, wheat, barley, hops, wine, cherries and apples.

Industries: High-tech, car industries, fashion.


Baden-Wuerttemberg is located in the southwestern part of Germany to the east of the Upper Rhine, itis the third largest of the 16 German federal states in both area and population.
The current 'Land' Baden-Wuerttemberg combines the historical states of Baden, Hohenzollern and Wuerttemberg, it is the only one of Germany's federal states to have evolved on the basis of a referendum (in Dec. 1951).
BW is divided in four Administrative Districts (Regierungsbezirke): Freiburg, Karlsruhe, Stuttgart, and Tübingen.

The state shares international borders with Switzerland to the south, and France to the west, and it borders the German states of Rhineland-Palatinate (in northwest), Hesse (in north), and Bavaria (in east).