Flag of the German Federal State of Schleswig-Holstein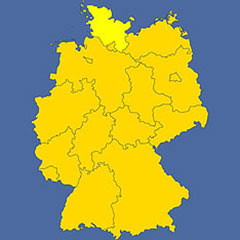 Official Name: Schleswig-Holstein

Nick name(s):
Motto:

Abbreviation: SH

Time zone: Central European Time (CET); Central European Summer Time (CEST)
(UTC+1/+2)

Capital City: Kiel

Other Cities: Bad Segeberg, Eckernförde, Elmshorn, Eutin, Flensburg, Husum, the Hanseatic City of Lübeck, Norderstedt, Westerland.

Geography:
Location: northernmost state of Germany, bordering Denmark in north.
Area: 15 763 sq km

Climate: Maritime - continental.

People:
Population (2013): 2.8 million
Religions: 59.3% Protestants, 4.9% Roman Catholic, 30.9% no religious affiliation.
Languages: German, Frisian, Danish

Natural resources:

Agriculture products: Meat and meat products, cereals, fodder crops, rape.

Industries: Mechanical engineering, ship-building, maritime industries, chemical industry, tourism.