Satellite View of Vat Phou temple using Google Earth Data
Satellite view is showing Vat Phou, a ruined Khmer Hindu temple complex within the Champasak Cultural Landscape (world heritage site) in south Laos, located at the base of mount Phu Kao, about 6 km west from the Mekong river in Champasak province.

The Champasak cultural landscape, including the Vat Phou Temple complex, is a remarkably well-preserved planned landscape more than 1,000 years old. It was shaped to express the Hindu vision of the relationship between nature and humanity, using an axis from mountain top to river bank to lay out a geometric pattern of temples, shrines and waterworks extending over some 10 km.
Vat Phou was a part of the Khmer empire, centered on Angkor.

On the satellite view one can see the artificial water basins as well as the ruins of South and North Palace.

Images of Lao and Vat Phou complex.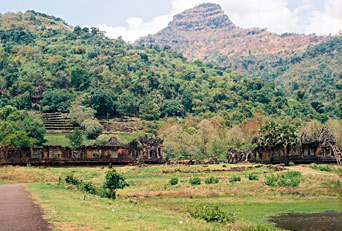 Vat Phou Temple complex a the foot of holy mount Lingaparvata (now called Phu Kao).
Image © nationsonline.org