Searchable Map and Satellite View of Lomé using Google Earth Data
Satellite view is showing Lomé, the national capital of

Togo. The city is located in the southwestern corner of the country at the border to neighboring Ghana, on the Bight of Benin, a part of the Gulf of Guinea (Atlantic Ocean).

In the late 19th century the coastal region became a German protectorate and at the end of the century the Germans laid out a new town at Lomé, then a Ewe village, to become a transportation hub and the capital of Togoland. They built three railways from Lomé to their bases at Anécho in east, Kpalimé in north west and to Sokodé in the northern hinterland.

Today Lomé is Togo's largest city and the economic, administrative and industrial center of the country. It is the chief port of the nation. Lomé's port is situated to the east of the city.

Togo's capital has a population of more than 1 million people in its metropolitan area. Official language is French.

Main attractions in the city are the Main Market, Lomé's largest marketplace, the fetish market, when you're in need for some animal heads or voodoo charms, the Togo National Museum with displays of the history and culture of Togo and cultural and artistic exhibits, and the Gothic Cathedral of the Sacred Heart from colonial times.

The city is home to the University of Lomé, the largest university in the country.

Just zoom in (+) and you will find yourself in the center of Togo's capital.

The map shows a city map of Lomé with expressways, main roads and streets, and the location of Lomé-Tokoin Airport (IATA code: LFW), Togo's international airport, about 6 km (via N1) northeast of the city center.

To find a location use the form below.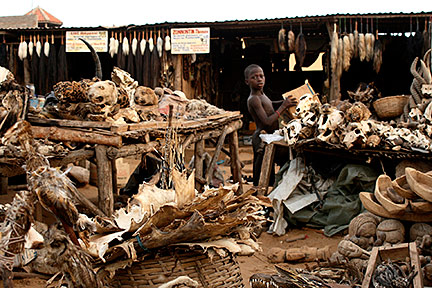 At the voodoo fetish market in Lomé, where you can buy items in use for Togolese traditional religion and medicine.

Image: Dominik Schwarz



Bookmark/share this page







To find a location type: street or place, city, optional: state, country.


Local Time Togo:

Sunday-November-29 01:34

Time Zone: no time offset of GMT/UTC
GMT/UTC 0 hour