Satellite View of Abuja using Google Earth Data
Satellite view is showing Abuja, the national capital of

Nigeria, located north of the confluence of the Niger and Benue rivers almost in the center of the country. It officially became Nigeria's capital on 12 December 1991.

Abuja is a planned city, it was picked to be the capital of Nigeria in 1976, but construction was slow and expensive.

The city is still under development, and some of the government ministries are still in Lagos, the primary city and center of business in the country.

Abuja has an estimated population of 1 million inhabitants in its metropolitan area. Official language is English.



The Map shows a city map of Abuja with expressways, and main roads, zoom out to find Nnamdi Azikiwe International Airport (IATA code: ABV) in west.
To find a location use the form below. To see just the map click on the "Map" Button.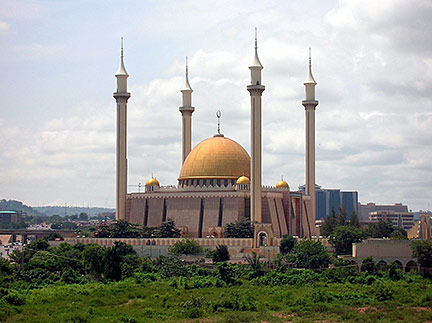 Abuja National Mosque, it is the national mosque of Nigeria, a country with one of the largest Muslim populations in West Africa (about 50% of Nigeria's population)
Photo: Shiraz Chakera

To find a location type: street or place, city, optional: state, country.


Local Time Abuja:

Thursday-October-30 13:12

West Africa Time (WAT): UTC/GMT +1 h