Flag of Kazakhstan

Background:
Native Kazakhs, a mix of Turkic and Mongol nomadic tribes who migrated into the region in the 13th century, were rarely united as a single nation.
The area was conquered by Russia in the 18th century and Kazakhstan became a Soviet Republic in 1936.
During the 1950s and 1960s agricultural "Virgin Lands" program, Soviet citizens were encouraged to help cultivate Kazakhstan's northern pastures. This influx of immigrants (mostly Russians, but also some other deported nationalities) skewed the ethnic mixture and enabled non-Kazakhs to outnumber natives. Independence has caused many of these newcomers to emigrate.
Current issues include: developing a cohesive national identity; expanding the development of the country's vast energy resources and exporting them to world markets; and continuing to strengthen relations with neighboring states and other foreign powers.
(Source: CIA - The World Factbook)

border countries: China, Kyrgyzstan, Russia, Turkmenistan, Uzbekistan

related countries: Mongolia, Turkey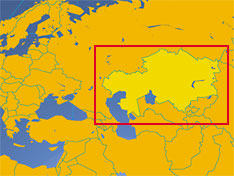 Official Name:
Qazaqstan Respublikasy
short form: Qazaqstan
int'l long form: Republic of Kazakhstan
int'l short form: Kazakhstan

ISO Country Code: kz

Time:
Local Time = UTC +5h +6h
Actual Time:

Sat-Apr-29 13:30

(Astana)

Country Calling Code: +7

Capital City: Astana (capital, since 1998, pop. 530 000)

Other Cities: Almaty (former capital) 1.2 million, Karaganda 440 000, Shymkent 370 000, Taraz 340 000, Ust-Kamenogorsk 310 000, Pavlodar 300 000.

Government:
Type: Republic; Kazakhstan has a hybrid system of Government that combines aspects of both parliamentary and presidential systems.
Independence: 16 December 1991 (from the Soviet Union).
Declaration of sovereignty: 25 October 1990.

Geography:
Location: Central Asia, bordering the Caspian Sea in west.
Area: 2.7 million km² (1.05 million sq. mi.); ninth-largest nation in the world; the size of Western Europe.
Terrain: Extends east to west from the Caspian Sea to the Altay Mountains and north to south from the plains of Western Siberia to the oasis and desert of Central Asia.
Highest peak: Kan Tengri 6995 m

Climate: Continental, cold winters and hot summers; arid and semi-arid.

People:
Nationality: Kazakhstani.
Population: 16.7 million (2012)
Ethnic groups: Kazakh 51.8%, Russian 31.4%, Ukrainian 4.4%, Tatar 1.7%, German 1.6%. There are over 100 other nationalities.
Religion: Sunni Muslim 47%, Russian Orthodox 44%, Protestant 2%, other 7%.
Languages: Kazakhstan is a bilingual country. Kazakh language has the status of the "state" language, while Russian is declared the "official" language. Russian is used routinely in business; 52% of population speaks Kazakh language.
Literacy: 98%

Natural resources: Major deposits of petroleum, natural gas, coal, iron ore, manganese, chrome ore, nickel, cobalt, copper, molybdenum, lead, zinc, bauxite, gold, uranium.

Agriculture products: Grain (mostly spring wheat), cotton; livestock.

Industries: Oil, iron and steel; tractors and other agricultural machinery, electric motors, construction materials.

Exports partners: Bermuda 12.5%, Russia 11.1%, Germany 10.7%, China 10%, Italy 7.9%, France 7.7%, Romania 4.5%, USA 4% (2005)

Imports partners: Russia 35.9%, China 21.4%, Germany 7.1% (2005)

Currency: Tenge (KZT)

Source: Embassy of Kazakhstan in the USA and Canada and other.



Kazakhstan in Figures
Kazakhstan key statistical data.