Flag of Tajikistan

Background:
Tajikistan has experienced three changes in government and a five-year civil war since it gained independence in 1991 from the USSR. A peace agreement among rival factions was signed in 1997, and implementation reportedly completed by late 1999. Part of the agreement required the legalization of opposition political parties prior to the 1999 elections, which occurred, but such parties have made little progress in successful participation in government. Random criminal and political violence in the country remains a complication impairing Tajikistan's ability to engage internationally.
(Source: CIA - The World Factbook)

border countries: Afghanistan, China, Kyrgyzstan, Uzbekistan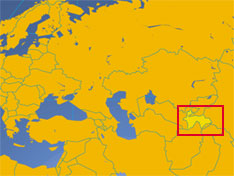 Official Name:
Jumhurii Tojikiston
short form: Tojikiston
int'l long form: Republic of Tajikistan
int'l short form: Tajikistan
Former: Tajik Soviet Socialist Republic

ISO Country Code: tj

Local Time UTC +5h:

Fri-Oct-28 22:49



Country Calling Code: +922

Capital City: Dushanbe

Other Cities: Khujand, Istaravshan, Kulob, Kurgan-Tube, Khorog, Qurghonteppa, Vahdat,


Government:
Type: Republic.
Independence: 9 September 1991 (from USSR).
Constitution: 6 November 1994.

Geography:
Location: landlocked country in the South-east of Central Asia, west of China.
Area: 143,100 km² (55,251 sq. mi)

Terrain: Pamir and Alay mountains dominate the landscape (93% of the total area); western Ferghana valley in north, Kofarnihon and Vakhsh Valleys in southwest.
Highest elevation: Qullai Ismoili Somoni 7 495 m

Climate: Mid-latitude continental, hot summers, mild winters; semiarid to polar in Pamir mountains.

People:
Nationality: Tajikistani
Population: 7.8 million (2012)
Ethnic groups: Tajik 67%, Uzbek 23%, Russian 3.5%, other 6.5%.
Religion: Sunni Muslim 85%, Shi'a Muslim 5%, other 10%.
Languages: Tajik (sole official language as of 1994); Russian widely used in government and business; three-quarter of the country however, is rural and they speak mostly Tajik.
Literacy: 88%

Natural resources: Hydropower, some petroleum, uranium, gold, silver, mercury, brown coal, lead, zinc, antimony, tungsten.

Agriculture products: Cotton, grain, fruits, grapes, vegetables; cattle, sheep, goats.

Industries: Aluminum, zinc, lead, chemicals and fertilizers, cement, vegetable oil, textiles, metal-cutting machine tools, refrigerators.

Currency: Somoni (TJS; introduced in October, 2000)

Sources: Ministry of Foreign Affairs of the Republic of Tajikistan and others.




Tajikistan in Figures
Tajikistan key statistical data.