Flag of Vanuatu


Background:
The Republic of Vanuatu is an archipelago in the South Pacific Ocean, east of Australia and west of Fiji, that comprises about 80 islands. Of these, there are thirteen major islands, and nine home active volcanoes.

British and French settled the islands in the 19th century, they agreed in 1906 to administer the islands jointly, called the British-French Condominium, which last until independence in 1980.
Vanuatu is recognised as one of the most culturally diverse countries in the world. Besides the Ni-Vanuatu people there are small communities of French, British, Australian, new Zealand, Vietnamese, Chinese and other Pacific Island people.



related countries: France, United Kingdom

other Melanesian nations and territories:
Fiji, New Caledonia, Papua New Guinea, Solomon Islands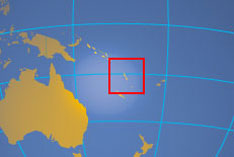 Official Name:
Republic of Vanuatu
short form: Vanuatu
former: New Hebrides

ISO Country Code: vu

Time:
Local Time = UTC +11h
Actual Time:

Sat-Oct-22 03:32



Country Calling Code: +678

Capital City: Port Vila (on the island of Efate; pop. 30 000)

Other Cities:
Luganville (on the island of Espiritu Santo, also known as Santo).

Government:
Type: Parliamentary democracy.
Independence: 30 July 1980 (from France and UK) .
Constitution: 30 July 1980.

Geography:
Location: Oceania, group of islands in the South Pacific Ocean, east of Australia and west of Fiji.
Area: 14,760 km² (5,697 sq miles).
Terrain: Mostly mountains of volcanic origin, narrow coastal plains.

Climate: Maritime tropical; moderate rainfall from November to April.

People:
Nationality: Noun and adjective: ni-Vanuatu.
Population: 257,000 (2012, National Statistics).
Ethnic groups: 94% ni-Vanuatu; 4% European; 2% other Pacific Islanders, Asian.
Religion: Predominantly Christian.
Languages: 3 official languages: English, French and Bislama (pidgin English), plus over 120 distinct languages.
Literacy: 53%

Natural resources: Manganese, hardwood forests, fish.

Agriculture products: Copra, coconuts, cocoa, coffee, taro, yams, coconuts, fruits, vegetables; fish, beef.

Exports partners: Thailand 46.3%, Malaysia 18.1%, Japan 7.4%, Belgium 5.3%, Indonesia 5.3% (2004)

Imports partners: Taiwan 34.6%, Australia 15.5%, Japan 10.7%, Singapore 8%, New Zealand 6%, Fiji 4.6% (2004)

Currency: Vatu (VUV)

Sources: Vanuatu Statistics Office and others.