Searchable Map and Satellite View of Suriname using Google Earth Data
Satellite view is showing Suriname, a country in northern South America, bordering the North Atlantic Ocean.

Capital city of Suriname is Paramaribo (pop. 250,000). Spoken languages are Dutch (official), Creoles, and Hindi.

Countries with international borders to Suriname are Brazil, French Guiana, and Guyana.

The map shows Suriname with cities, towns, expressways, main roads and streets.


To view just the map, click on the "Map" button.


To find a location use the form below.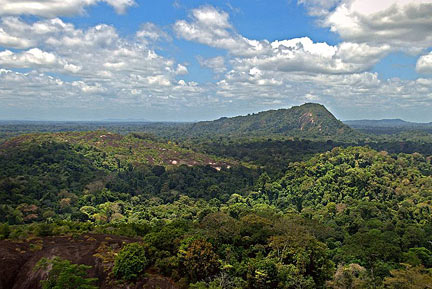 Pristine rainforest around Mount Voltzberg, a 245 m high granite monolith, one of several granite domes which shape the landscape in this part of Sipaliwini district in central south Suriname.

Image: David Evers
To find a location type: street or place, city, optional: state, country.


Local Time Suriname:

Friday-May-22 11:33

Standard time zone:
Suriname Time (SRT) UTC/GMT -3 hours