Satellite View and Map of Abbottabad using Google Earth Data
Satellite view is showing Abbottabad in

Pakistan. Abbottabad lies at an altitude of 1,260 m (4,120 ft) above sea level, it is located in the Orash Valley near the border to Jammu Kashmir province of India, about 50 km northeast of Pakistan's capital Islamabad in the Hazara region of the Khyber Pakhtunkhwa province.

It is the city where Osama bin Laden was brought to justice by the US on the evening of 1 May 2011. Bin Laden was hiding in a compound "at the end of a dirt road" near Bilal Town also known as Thanda Choa, in a distance of "under a mile" from the PMA (Pakistan Military Academy) on Kakul Road (see map).

Spoken language is mainly Hindko, a language spoken by people in the mountainous region in eastern Afghanistan and northern Pakistan.

Abbottabad is a main transit point to all major tourist regions in northern Pakistan such as the famous Khyber Pass in Khyber Pakhtunkhwa, which links the province to Afghanistan, Ayubia National Park and Qalanderabad game reserve and the Swat valley, "the Switzerland of Pakistan".

According to the Imperial Gazetteer of India, "the town is picturesquely situated at the southern corner of the Rash (Orash) plain, ". Like much of the mountainous Northern Areas, tourism is one of the important sources of income in Abbottabad. In the summer when temperatures rise to around 45 degrees Celsius in Punjab and NWFP, a large number of tourists travel north to Abbottabad.


The map shows a city map of Abbottabad with expressways, main roads and streets, nearest airport is Islamabad's Benazir Bhutto International Airport (IATA code: ISB) situated south of the city near Rawalpindi.

To find a location use the form below. To view just the map, click on the "Map" button.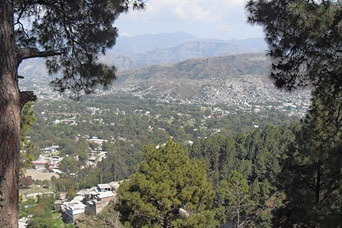 View of Abbottabad from Shimla Hill, northeastern Pakistan.
Image: Fraz.khalid1