Map is showing the South American country with international borders, the national capital Paramaribo, province capitals, major towns, villages, and resorts.
The country is situated just north of the Equator, it is bordered by the Atlantic Ocean in north, by Guyana in west, by French Guiana in east, and by Brazil in south.

Administrative Regions of the Republic of Suriname
Map shows Suriname's administrative divisions of ten districts. The country is further subdivided into 62 resorts (ressorten)..

The districts are (district capital in parentheses):
Brokopondo (Brokopondo), Commewijne (Nieuw Amsterdam, a small coastal town at the confluence of the Suriname River and Commewijne River), Coronie (Totness), Marowijne (Albina, a town on the west bank of the Marowijne river), Nickerie (Nieuw Nickerie, third largest city in the country; pop. 15,000), Para (Onverwacht), Paramaribo (Paramaribo, capital and largest city; pop. 245,000), Saramacca (Groningen), Wanica (Lelydorp, second largest city; pop. ca. 16,000),
and Sipaliwini (no regional capital),
The district covers about 80% of the national territory, it lies entirely in a region with tropical rainforests and is characterized by its diverse flora and fauna. Within the district situated is one of the two of Surinam's UNESCO World Heritage Sites, the Central Suriname Nature Reserve, a 16,000 km² (6,178 sq. mi) large region with a pristine tropical rainforest ecosystem, dotted by scattered granite domes - uplifted granite monoliths rising high above the surrounding forests. The best known granite dome is the 245 m high Voltzberg.
The size of the Central Suriname Nature Reserve makes it one of the 10 largest tropical forest reserves in the Amazon/Guyana Shield region.
Sipaliwini's landscape offers beside its montane and lowland forests, several waterfalls, the most famous are the Raleigh Falls, rapids in the Coppename river, and the Blanche Marie Falls in the Nickerie River in the Bakhuis Mountains. Located along the major rivers in this district are many tourist resorts. In many cases you will stay close to or among the local residents. This district is due to its vastness and untouched nature a major challenge for many expedition adventurer.



Click on the map to enlarge to a detailed map of Suriname.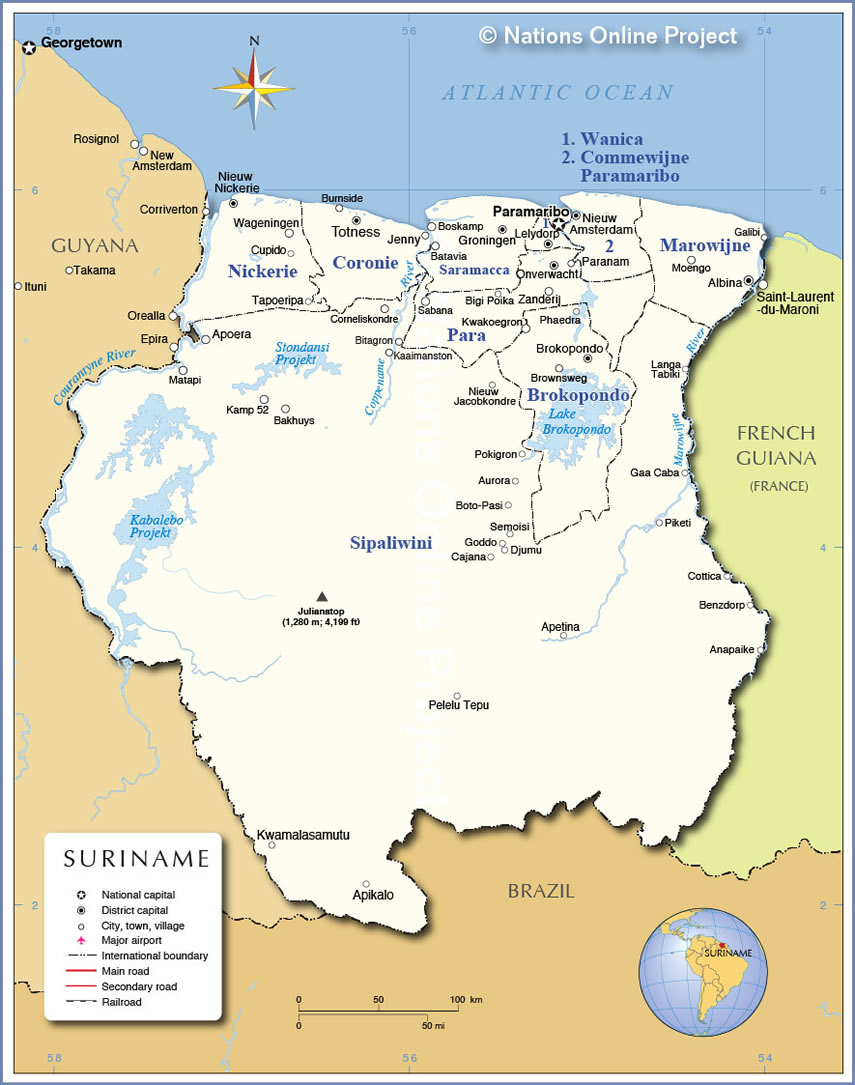 Administrative Map of Suriname