Map is showing Liberia, a West African country bordered in west by the North Atlantic Ocean, capital city is Monrovia.
The map shows the country with international borders, regional boundaries, the national capital Dakar, regional capitals, cities and towns, and major airports.

Border Countries: Guinea, Cote d'Ivoire (Ivory Coast), and Sierra Leone

Click on the map to see a detailed map of Liberia.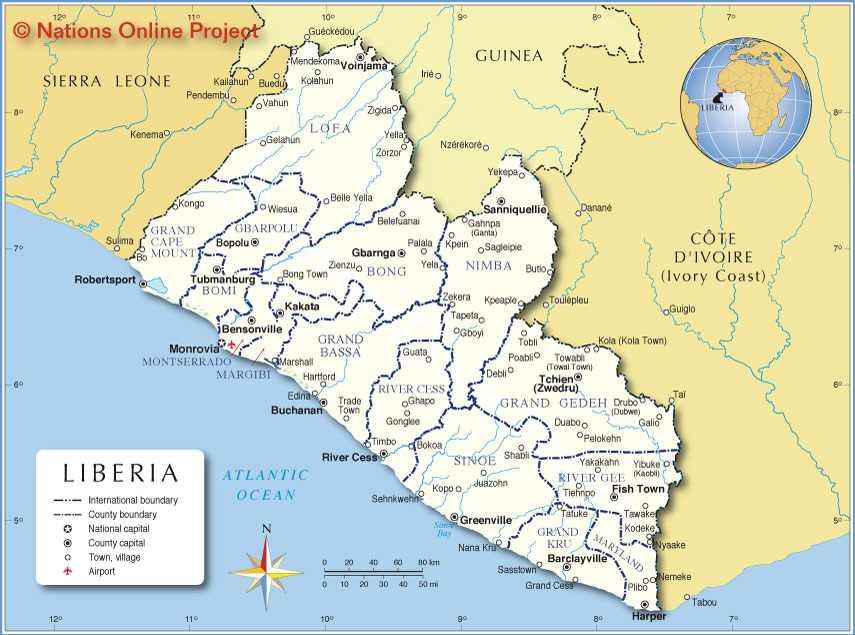 Administrative Map of Liberia

Liberia is divided into 15 counties (capital towns/cities in parenthesis):
Bomi (Tubmanburg), Bong (Gbarnga), Gbarpolu (Bopulu), Grand Bassa (Buchanan), Grand Cape Mount (Robertsport), Grand Gedeh (Zwedru (Tchien), Grand Kru (Barclayville), Lofa (Voinjama), Margibi (Kakata), Maryland (Harper), Montserrado (Bensonville) Nimba (Sanniquellie), River Cess (River Cess), River Gee (Fish Town), Sinoe (Greenville)