About Timor-Leste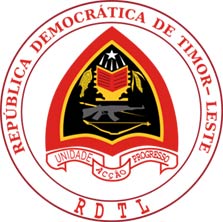 Satellite view is showing Timor-Leste or East Timor, a relative young state and Asia's newest nation, situated on the eastern part of Timor island in Maritime Southeast Asia.
Timor-Leste shares an international borders with Indonesia and maritime borders with Australia. Timor is the easternmost of the Lesser Sunda Islands, with Savu Sea and Ombai Sea in north, and Timor Sea in south. The northern coast of the island is fringed by a number of coral reefs, famous for its teeming marine life.

With an area of 14,874 km², including the islands of Pulau Acrobat and Paula Jaco, compared it is about half the size of Belgium, or slightly larger than the Bahamas.

East Timor has a population of 1.2 million inhabitants (in 2016). Capital city is Dili. Spoken languages are Tetum (official), Portuguese (official), Indonesian, English, and indigenous languages.

The map shows Timor-Leste with cities, towns,and main roads.

To find a location use the form below.

To find a location type: street or place, city, optional: state, country.


Local Time Timor-Leste:

Wednsday-March-29 15:29

Time zone: East Timor Time (TLT) :: UTC/GMT +9 hours