About Hagåtña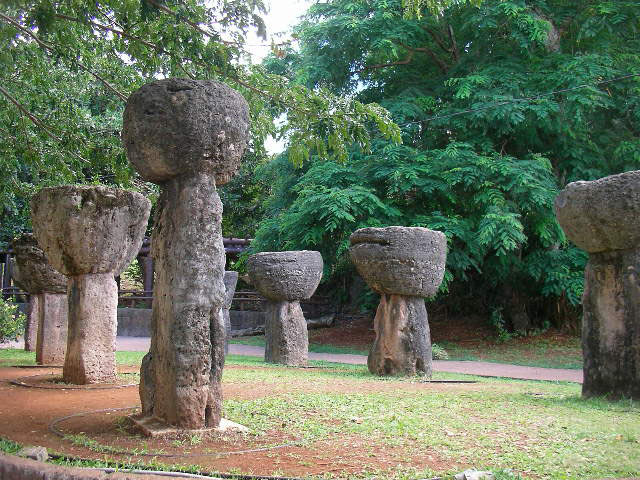 Image: Hajime NAKANO

Satellite view is showing Hagåtña (formerly Agana), the territorial capital of the U.S. Territory

Guam, an island in an archipelago along the Mariana Trench in the western Pacific Ocean, known as the Mariana Islands.

The town is located at the mouth of the Hagåtña river on Guam's west coast, bounded by the beaches of Agana Bay to the north, Tutuhan village in south and the residential town of Mongmong-Toto-Maite in east.

The village served as the island's population and administrative center even before Guam's colonization by the Spanish. Today it the second smallest of the 19 villages of Guam with a population of about 1,100 inhabitants. The town is home to Guam's legislature, the governor's office and other government offices like the District Court of Guam.


Hagåtña attractions:

Museums: Guam Museum (museum focusing on the 4,000-year history of the island and the Chamorro culture, the museum also shows visual arts exhibits, since 2016 in a new built complex, officially named Sen. Antonio M. Palomo - Guam and Chamorro Educational Facility). Pacific War Museum (military history of the Pacific theater of World War II)

Beaches: Ritidian Point (located at the northernmost tip of Guam, part of the Guam National Wildlife Refuge and the only site open to the public)

Churches: Dulce Nombre de Maria Cathedral-Basilica (one of Agana's landmarks, inside the church is an image of Santa Marian Kamalen, the Patroness of Guamanian peoples.)

UnderWater: UnderWater World Guam (tunnel-aquarium in Tamuning - uwwguam.com). Atlantis Guam (discover the undersea world of Guam in a real submarine - atlantis-guam.com)

Shopping: Chamorro Village Market (local and international cuisine, arts and crafts)

Parks: Paseo de Susana Park (park on a peninsula with a replica of Statue of Liberty, within the park is Guam's main sports stadium). Latte Stone Park (two rows of Latte stones, the original location of these stones were in Me'pu, in the southern part of Guam near Fena Lake)

The map shows a city map of Hagåtña with main roads and streets, and the location of AB Won Pat International Airport Hagåtña (IATA code: GUM), 3 mi (5 km) east of the city.

To find a location use the form below. To view just the map, click on the "Map" button.


To find a location type: street or place, city, optional: state, country.


Local Time Guam:

Wednsday-June-7 12:03

Time zone: Chamorro Standard Time (ChST) UTC/GMT +10 hours