Fictional character and helper of Xuanzang in the Chinese novel 'Journey to the West'.
Originally Sha Wujing was a general in heaven, but 'accidentally', after being furious mad with anger, he broke a valuable vase. Punished by the Jade Emperor and exiled to Earth, he was reborn as a man eating sand demon.

Searching for a body guard for Xuangzang, the bodhisattva Guan Yin recruited Sha Wujing.

As the third disciple of Xuangzang, even though his fighting skills are not as great as that of Sun Wukong, the Monkey King or Zhu Bajie, Zhu Wuneng, Sha Wujing is still a great warrior protecting Xuanzang. Sha Wujing was actually a kind-hearted and obedient person and was very loyal to his master. Among the three disciples he was the most polite and the most logical one.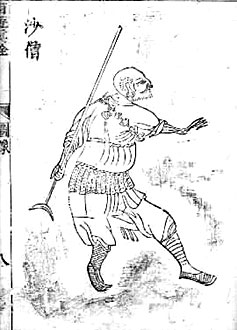 An illustration of Shā Wùjìng