Searchable Map and Satellite View of Micronesia using Google Earth Data
Satellite view is showing the Federated States of Micronesia, a Micronesian island nation consisting of a group of four associated island states that comprise the 600 islands of the Caroline Islands in the Pacific Ocean. The 4 island states are Chuuk, Kosrae, Pohnpei and Yap.

The FSM has a population of 110,000 inhabitants. Capital city of Micronesia is Palikir, on the island of Pohnpei.

Spoken languages are English, and the Austronesian languages Chuukese, Kosraean, Pohnpeian, Yapese, Ulithian, and Woleaian (all of them official).

Geograhically relative close to: Guam and Northern Mariana Islands , Indonesia, Papua New Guinea and the Philippines.

The map shows Federated States of Micronesia with islands, cities, towns, and main roads.
To find a location use the form below.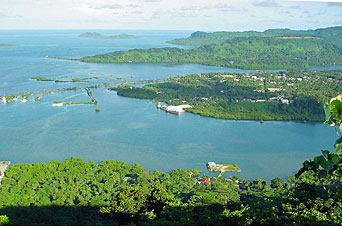 Kolonia city, cultural capital of Micronesia.