Flag of the German Federal State of Sachsen

The Free State of Saxony is located in central east Germany, it is the easternmost federal state of the country.
It shares international borders with, (from the east and clockwise), Poland, and the Czech Republic and borders within Germany the federal states of Bavaria, Thuringia, Saxony-Anhalt and Brandenburg.


neighbouring states: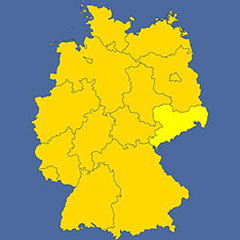 Official Name: Freistaat Sachsen
short form: Sachsen
en: Saxony
Nick name: Silicon Saxony
Motto: Sachsen. Land von Welt. | Saxony. State of the Arts.
Abbreviation: SN

Time zone: Central European Time (CET); Central European Summer Time (CEST)
(UTC+1/+2)

Capital City: Dresden

Other Cities: Chemnitz, Leipzig, Bautzen, Görlitz, Hoyerswerda, Meißen, Zwickau.

Geography:
Location: central east Germany, borderin Poland in east, and the Czech Republic in south.
Area: 18 413 km²

People:
Population (2013): 4.0 million
Religions: 28.7% Protestants, 2.8% Roman Catholic, 64.6% no religious affiliation.

Natural resources: Kaolin

Agriculture products: Grain, diary products, livestock.

Industries: Chip producing, publishing, porcelain.