Flag of the German Federal State of Thüringen


The Free State of Thuringia is located in Middle Germany, bordering (from the northwest and clockwise) the German states of Lower Saxony, Saxony-Anhalt, Saxony, Bavaria and Hesse.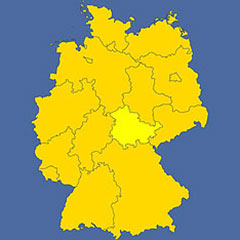 Official Name: Thüringen
en: Thuringia
Motto: "The Green Heart of Germany."

Abbreviation: TH

Time zone: Central European Time (CET); Central European Summer Time (CEST)
(UTC+1/+2)

Capital City: Erfurt

Other Cities: Weimar, Jena, Bad Liebenstein, Eisenach, Gera, Gotha, Ilmenau.

Geography:
Location: in Middle Germany north of Bavaria
Area: 16,172 km²

People:
Population (2012): 2.17 million
Religions: 21% Protestants, 5,3% Roman Catholic, 72% no religious affiliation.

Natural resources: Gravel sand, limestone, gypsum, clay slate.

Agriculture products: biofuels and biomass, livestock, cereal, potatoes, vegetables, fruits.

Industries: Automobile manufacture and automotive supply, microelectronics, optics and optoelectronics.