Flag of the German Federal State of Rheinland-Pfalz

The state is located in central south-west of Germany. The state offers idyllic river landscapes in a mountainous country, historical cities and villages and some of the best wine-producing areas in Germany.

Rhineland-Palatinate shares international borders with France, Luxembourg and Belgium, it borders the German federal states of North Rhine-Westphalia in north, Hesse in east and Baden-Württemberg in south-east, it surrounds the federal state of Saarland.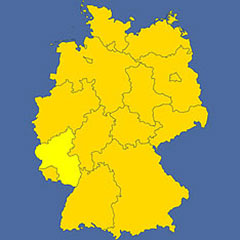 Official Name: Rheinland-Pfalz
en: Rhineland Palatinate

Nick name: Weinland-Pfalz (Wineland-Palatinate)
Motto for Palatinate: Zum Wohl. Die Pfalz. (Cheers. The Palatinate.)

Abbreviation: RP

Time zone: Central European Time (CET); Central European Summer Time (CEST)
(UTC+1/+2)

Capital City: Mainz

Other Cities: Frankenthal, Idar-Oberstein, Kaiserslautern, Koblenz (Coblenz), Landau, Ludwigshafen, Neustadt (Weinstrafle), Pirmasens, Speyer (Spires), Trier, Worms, and Zweibrücken.

Geography:
Location: in central south-west of Germany
Area: 19 847 km² (7 663 sq mi)

People:
Population (2013): 4 million
Religions: 24.8% Protestants, 64.7% Roman Catholic, 7.2% no religious affiliation.

Natural resources: Wine.

Agriculture products: Wine.

Industries: Tourism, wine, chemical industry.