___Education
In the 1880s, modern schools were first introduced in Korea, as the nation began to open itself to Western culture. When the Republic of Korea was established in 1948, the nation instituted a 6-6-4 national educational system In 1953, six years of elementary school education became mandatory and free for all children. Today, Koreans enjoy a highest literacy rate in the world. Many experts have observed that Korea owes much of its economic success to its highly educated workforce.

__School System
Today, the Korean school system follows a 6-3-3-4 pattern, which consists of elementary school (1st to 6th grades), middle school (7th to 9th grades), high school (10th to 12th grades) and university (or 4, 3 or 2-year colleges). Elementary schools provide six years of compulsory education to children between the ages of 6 and 11. Middle schools offer three years of secondary education to those aged 12 to 14, while high schools provide three years of advanced secondary education to those aged 15 to 17.

High schools are divided into two categories, general and vocational. General high schools teach various liberal arts subjects including the humanities, social sciences and natural sciences. This category also includes the areas of arts, physical education, science, and foreign languages, while vocational schools concentrate on practical skills and training in such areas as computers, accounting, mechanical engineering, handicraft, agriculture and marine culture.
Institutions of higher learning include junior (vocational) colleges and four-year colleges/universities. At this level, students are free to choose between 2, 3, and 4-year college education, depending on one's aspirations and available resources. College entrance examination is highly competitive and requires careful preparation.

There are also special schools offering elementary and secondary education for the deaf, blind and others with learning difficulties. Preschool education is provided by kindergartens.

__Elementary Education
Elementary school enrollment showed a sharp increase from 1952, reaching a peak of more than 5 million in 1971. Such a phenomenal increase resulted in crowded classrooms, with more than 90 pupils crammed in one classroom in some schools during those years. In 1960, the average number of students per teacher stood at 58.8. By 2001, the year for which the latest statistics are available, the number has dramatically decreased to 35.6.

As of the end of 2001, the nation had 5,322 elementary schools, where over 4 million pupils were enrolled and were staffed by 142,715 teachers.

The basic curricula for the elementary school education are generally divided into nine principal subjects: ethics, Korean language, social studies, arithmetic, natural science, physical education, music, fine arts and the practical arts.

__Secondary Education
The number of middle school students also showed an impressive rate of growth in recent decades. The percentage of elementary school graduates advancing to middle school increased from 58.4 percent in 1969 to 99.9 percent in 2001. As of 2001, there were 2,770 middle schools across the nation with a total enrollment of 1.83 million.

The "middle school entrance examination" was abolished in 1969, and students are usually assigned to middle schools located in their district of residence. Mandatory education for middle school began in 2002.
General high schools teaching humanities totaled 1,210 as of 2001, with an enrollment of 2.25 million (2,259,975). Vocational high schools numbering 759 were teaching 651,198 students. In the same year, 99.5 percent of middle school graduates advanced to high schools.

__Higher Education
There are five categories of institutions of higher learning: (1) junior colleges (2-3 years); (2) colleges and universities with four-year undergraduate programs (six-year medical schools); (3) universities of education or normal schools; (4) theological colleges and seminaries and (5) graduate schools.
About 80 percent of these institutions are private. Whether public or private, they come under the supervision of the Ministry of Education and Human Resources Development. The Ministry has control over such matters as the number of students each institution can accommodate, teacher qualifications, curricula and degree requirements.
The curricula are composed of general and professional courses and each is again divided into required and elective courses. In 1945 there were only 19 institutions of higher learning across the nation, including North Korea. By 2001, 1261 institutions were registered in South Korea alone. A total of 3,500,560 students were enrolled at these institutions, staffed by 58,532 faculty members.

__Graduate Schools
Under the nation's Education Act, a university must have one or more graduate schools offering research-oriented courses for graduate students. As of 2001, there were 887 general graduate schools in the universities and 18 professional graduate schools. As of 2001, the total enrollment in graduate courses across Korea was 243,270.

__Special Education
The first special education in Korea was offered in 1894, when a school for the blind was set up in Pyongyang, in the northern part of Korea. Since then, similar projects to help educate the handicapped persons have been launched by a number of social service and charity organizations. The government assumed responsibility for the schools for the blind in 1945. Two years later, they were incorporated into the nation's secondary educational system In 1950, a special teacher-training course was opened, and by 1977 the government enacted the Law for the Promotion of Special Education.

The number of schools for students with special needs has steadily increased over the years. As of 2001, there were 134 institutions for special education across the nation, with a total enrollment of 23,769. They include 12 schools for the blind, 19 for the deaf and mute, and 18 for the physically challenged, and 85 for the mentally retarded.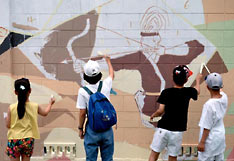 School Children © KOIS