The Democratic Republic of the Congo is the second largest country in Africa (after Algeria). The country formerly known as Zaire is bordered by Angola, Burundi, Central African Republic, Republic of the Congo, Rwanda, Sudan, Tanzania, Uganda, and Zambia, and it has a short coastline on the Atlantic Ocean. The country's long name is often shortened to DR Congo, Congo-Kinshasa or the DRC, it is not to be confused with neighboring Republic of the Congo, also known as Congo-Brazzaville.

Administrative divisions of the Democratic Republic of the Congo
DR Congo's administrative divisions are ten provinces and one city-province. The provinces itself are subdivided into districts, these are divided into territories.

The provinces are (capitals in parentheses):
Bandundu (Bandundu, largest city Kikwit), Bas-Congo (Matadi), Équateur (Mbandaka), Kasai-Occidental (Kananga), Kasai-Oriental (Mbuji-Mayi), Katanga (Lubumbashi), Kinshasa (the city-province, largest city and capital of the country; formerly known as Léopoldville; pop. 9 million),
Maniema (Kindu), Orientale (Kisangani), and the Kivus: North Kivu (Goma), South Kivu (Bukavu).

Map is showing the Democratic Republic of the Congo with surrounding countries, administrative divisions, province capitals, cities, and towns.



Political map of Democratic Republic of the Congo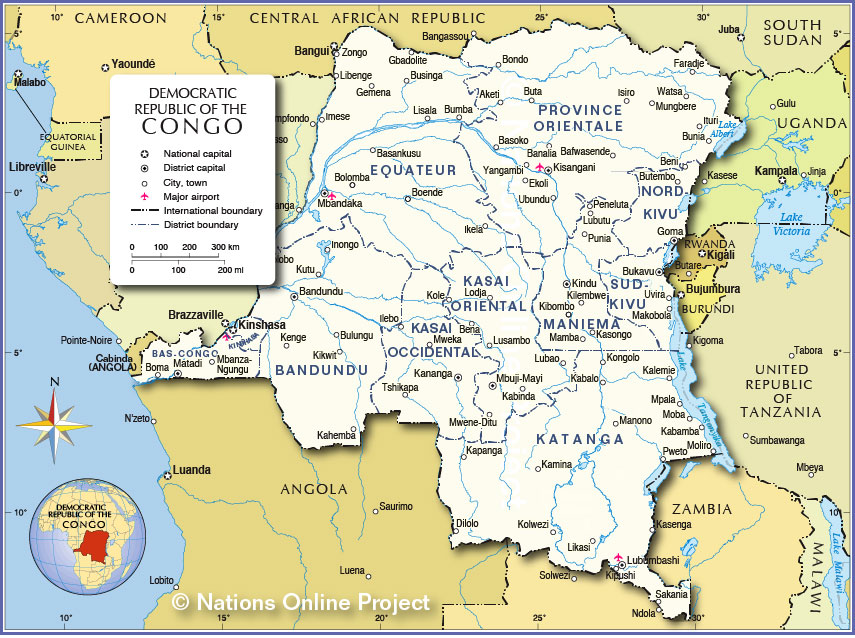 Administrative Map of Democratic Republic of the Congo