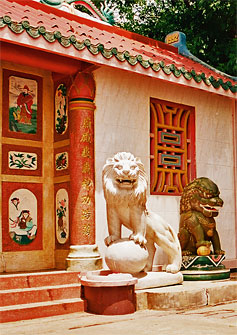 Modern and traditional form of Stone LIons, at a Chinese Temple in Pakse, Lao PDR.
Photo © nationsonline.org


An Imperial Guardian Lion is supposed to have mystic protective powers and can be found in front of such places as temples, imperial palaces, government offices or traditionally in front of homes of high ranking members of society indicating their financial and/ or social status.

Traditionally the lions are made of marble, granite or cast from bronze or iron.
The custom originated during the Han Dynasty (206 BC- 220 AD).

The eyes of the Imperial Guarding Lions are usually wide open with a little dot in the middle. Their mouths are wide open, seemingly roaring. Their faces have a devilish look in order to scare off evil spirits.

Imperial Guardian Lions are often in pairs. The male's right paw is playing with a ball symbolising the Earth and the female holding a cub beneath her paw. Originally, the male Imperial Guarding Lion will be on the right hand side of the temple or home it stands before, the female will be on the left side.
The male of the pair is said to guard the structure, while the female protects the interior of the place and its worshipping believers or inhabitants.