The temple was built in 1871 by Phra Archan Chin Wang Samathiwat (Sok Heng) in order to disseminate Buddhism in Mahayana. King Chulalongkorn/King Rama 5 later granted a new name to the temple, Wat Mangkon Kamalawat (Dragon Lotus Temple). The ubosot (Ordination Hall) was built in Chinese architectural style with the waving roofs, decorated with animal and floral design stucco.

The principal buddha image is gold coloured and of Chinese style.
In front of the ubosot stands an altar used for religious rites.
Inside the wiharn (Sermon Hall) the images of Thao Chatulokaban (The Four Guardians of the world) are installed, all Thao Chatulokaban wearing Chinese warrior costumes.
There are various statues of Saints of local Chinese beliefs. In the rear of the temple there are three pavilions, one of Guan Yin (Goddess of Compassion and Mercy), the second of the temple's founder, while the third is for the Saint Lak Chao.
The faithful people believe that by coming to pray homage to all the saints in the temple will bring them good luck in various fields of live.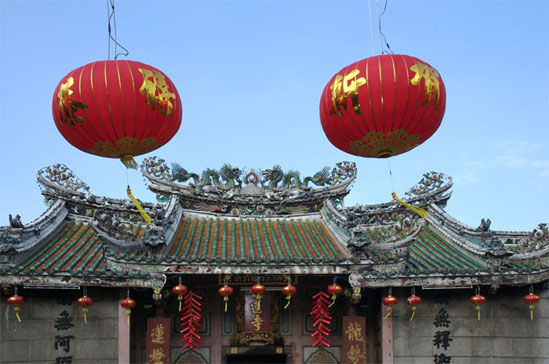 Wat Mangkon Kamalawat, China Town, Bangkok
Photo: © Valeska Gehrmann